5 FAQs & Expert Answers for Cleaning a Roof with Solar Panel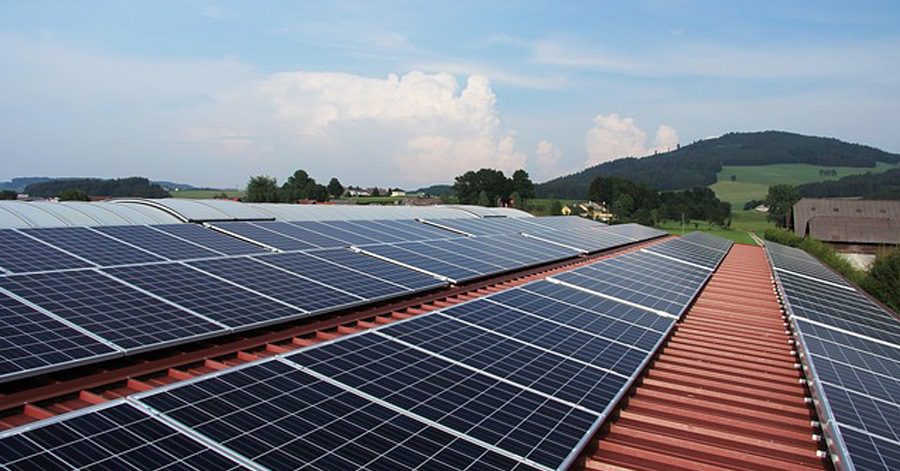 One of the most common questions we receive about solar rooftops involves whether cleaning roofs with solar panels is necessary. Just as with gutter cleanings or roof washings, regular roof cleanings will help preserve and protect your solar panels while optimizing their ability to produce electricity. Continue reading to learn more about cleaning your roof with solar panels.
Can Cleaning a Roof with Solar Panels Help?
According to a National Renewable Energy Laboratory (NREL) study, dirty panels produce 25% less electricity than clean ones. As a matter of fact, NREL suggests that solar panels may need to be cleaned more often on homes located in climates with infrequent rainfalls.
Another scenario where you would want to schedule professional solar panel cleaning is if you live in an area that has experienced a drought, or if it only lightly mists or rains very lightly - you may need to clean your solar panels.
While some of the substances that accumulate on your solar panels will be washed off with rain, stubborn residue and debris, such as bird droppings, will need to be removed with professional expertise.
Why Hire an Experienced Professional for Solar Panel Cleaning ?
Most industry professionals agree that solar panel leaks are usually caused by inexperienced roofers treating your solar panels like a construction zone. Those without sufficient experience working on solar roofs often drag heavy panels and racks across the roof.
Another common mistake is when unlicensed or inexperienced contractors leave tools behind that end up clogging gutters and downspouts, which may also cause ice dams in the winter.
According to Aaron Nitzkin, CEO and founder of Solar Roof Dynamics, because the solar roof industry is relatively new, there are always sketchy people looking to capitalize in on it. Unfortunately, it's the homeowners who are caught in the crossfire, and it's really unfortunate.
Is Solar Panel Cleaning a DIY Project?
Since most homes with solar panel roofs are not accessible from the ground, attempting to clean your roof yourself can be very dangerous. According to the Consumer Product Safety Commission (CPSC), thousands of people are injured and hundreds are killed as a result of ladder-related falls.
Over 90,000 people visit the emergency room each year for treatment of a ladder-related injury
Falls from elevated platforms, such as roofs, result in approximately 700 occupational deaths each year.
According to the Bureau of Labor Statistics, 50% of all ladder-related accidents were caused by people carrying items as they climbed.
Simply put, cleaning a roof with a solar panel is dangerous and should be left to the professionals.
At Ned Stevens Gutter Cleaning of Long Island, all of our technicians have undergone extensive training, and we always use the appropriate safety equipment. If there is an accident, we are fully licensed and insured, so you — the homeowner — will not be at risk. With an unlicensed contractor, you could be on the hook for tens of thousands of dollars in possible medical bills and lawsuits.
What Are the Best Practices for Cleaning Roofs with Solar Panels?
Although there are several best practices for cleaning a roof with solar panels, some are much more important than others. For instance, we'll never use any type of metal on the solar roof or any harsh abrasive products to remove stubborn, caked-up materials. This can result in scratches, which can affect the overall performance of the panels because it can create shadows.
We do not use detergents because they can leave streaks on the panel. Instead, we use a specially formulated cleaning solution designed to gently clean the panels without leaving streaks or smudges. We also avoid using abrasive powders that may scratch the panels.
How to Remove Oily Stains from Solar Panels?
Far too often, we notice freshly installed solar panel with oily stains. This scenario is usually the case if you live under a flight path, near an airport, or if you live near a major highway frequented by large trucks. In this instance, we use a special cleaning solution designed to cut and these oily residues from your roof and solar panels.
Contact Ned Stevens Gutter Cleaning of Long Island
Get the most from your solar panels with expert solar panel roof cleaning from Ned Stevens Gutter Cleaning of Long Island. Since 1965, Ned Stevens Gutter Cleaning has been serving customers throughout the Long Island area with:
Due to our commitment to excellence, we've expanded and are currently operating in 12 different states.
Contact Ned Stevens Gutter Cleaning today for a free solar panel, roof washing or gutter cleaning estimate.