Shrink Wrap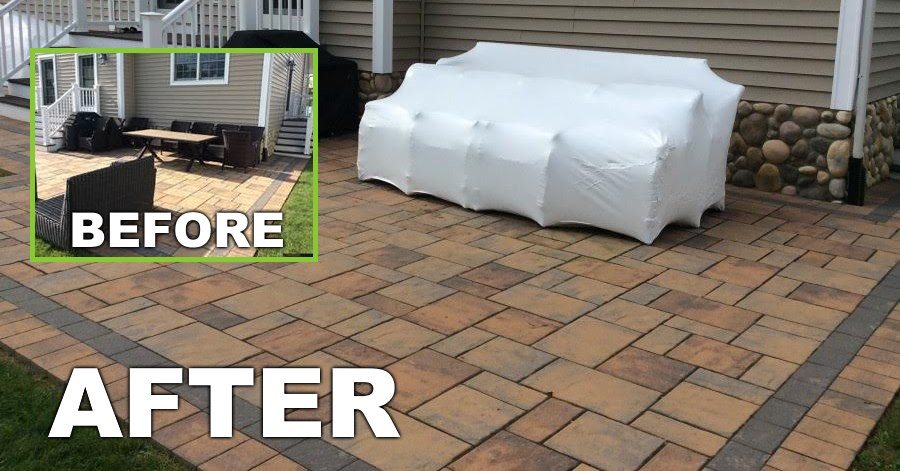 Shrink Wrap Service on Long Island, Nassau, and Suffolk County
Anything that's going to be stored outside and subject to the elements for any extended period of time needs to be protected with shrink wrap. Shrink wrap is a high-strength, polyethylene (plastic) with UV inhibitors. This material shrinks when heated to create a highly-effective seal exponentially tighter than possible with tarps, ropes or bungees.
Shrink wrap keeps the weather out of your belongings, while preventing the tearing and stretching that tarps commonly display after a short period in the elements. Ned Stevens Gutter Cleaning of Long Island offers a shrink wrapping service to preserve your outdoor items and keep them looking good and clean through the wet, cold, icy winters of the Northeastern United States.
Whether you're looking to winterize your outdoor items or simply protect them from the elements, our shrink wrapping service is the premier solution. The experts at Ned Stevens Gutter Cleaning of Long Island bring decades of experience and technical knowhow. Simply put, no item is too big or small for us to protect with shrink wrap. Contact Ned Stevens Gutter Cleaning of Long Island today for a free shrink wrap quote.
Protect Your Items from the Sun with Shrink Wrapping
Ned Stevens utilizes 100% virgin (i.e. not recycled plastic) shrink wrap with maximum UV inhibitors, which protects the items wrapped from the sun's harmful rays. Without UV protection, the items wrapped will lose their original color and texture, while fading and experiencing material degradation.
The UV inhibitors in our shrink wrap will extend the life of your belongings and increase the return on investment. You can protect your outdoor furniture, boats, or material made from:
Wood
Metal
Plastic
Stone (marble tabletops or other stone material)
Fabrics
We never use shrink wrapping materials manufactured with composite components. Our shrink wrap can withstand the severe temperatures and weather of the fall and winter without being degraded by the sun.
Protect Your Items from Corrosion
Our advanced wrapping techniques and materials also prevent chaffing. As an added bonus, our ventilation options can substantially reduce and sometimes eliminate moisture and mildew problems. Ned Stevens Gutter Cleaning even offers Vapor Corrosion inhibiting solutions to prevent damage to sensitive metals and electrical circuits, such as those found in boats, waverunners, motorcycles, ATVs and even some higher end barbecue grills.
Vapor Corrosion Inhibitors — also called volatile corrosion inhibitors — provide excellent protection for your metal surfaces. With VCIs, your metal surfaces can be protected from rust and corrosion throughout the winter.
What Can Be Shrink Wrapped?
Shrink wrap protects against weather damage, is waterproof, and extends the useful life and beauty of everything it protects, including your investment in your home. Most importantly, it can fully accommodate virtually every item outside your home, including:
Gazebos
Lawn, patio, or pool furniture
Grill or barbecue pit
Yard ornaments
Air conditioners
Swingsets
Bars
Outdoor kitchen islands
Above ground pools or hot tubs
Can Boats and Large Items Be Shrink Wrapped?
If you have a boat, trailer, or other large item, it becomes even more important to take protective measures. Our innovative shrink wrap is the perfect solution. A single sheet of wrap can cover boats over 60' in length or any car, truck or trailer.
We can provide zipper access doors, so you can easily enter and exit your covered item without ever cutting or removing the shrink wrap cover. Simply put, no item is too large or too small to enjoy the benefits of Ned Stevens' shrink wrap.
Contact Ned Stevens Gutter Cleaning of Long Island
Protect your belongings from weathering and the sun with state-of-the-art shrink wrap. We proudly service customers on Long Island, Nassau County, Suffolk County, and surrounding areas. As a fully licensed and insured company, we always stand behind our work.
Since 1965 Ned Stevens Gutter Cleaning of Long Island has been delivering viable and sustainable solutions to ensure your home and property looks as good as possible for years to come. We will send our shrink wrap professionals to your home to safely and efficiently protect all your items that need to be guarded from the elements.
Contact Ned Stevens Gutter Cleaning of Long Island today for a free shrink wrapping quote.