How to Prevent Roof Damage: Essential Tips for Homeowners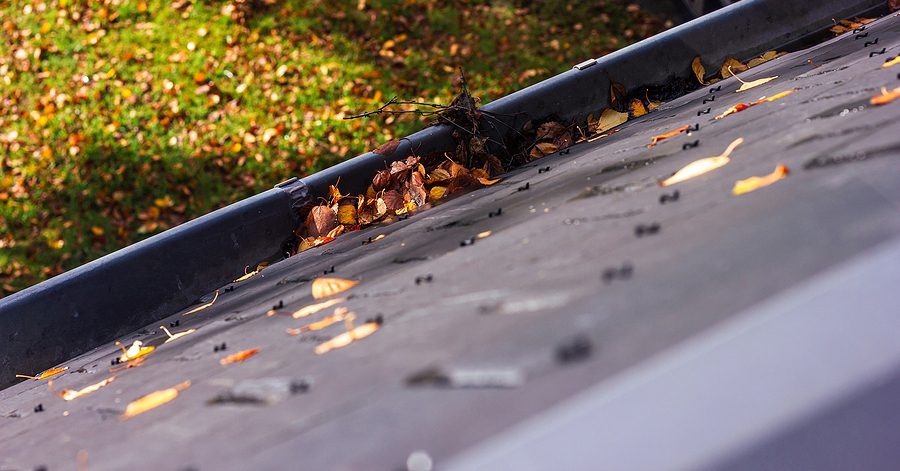 Did you know that the average cost to repair a damaged roof ranges from $300 - $1,200 and that the average roof replacement is almost $10,000? With prices like these, it is no wonder homeowners want to prevent roof damage if they can.
There are many causes of roof damage from storms, to winter weather, and to falling tree limbs. Before we get into a few easy ways you can successfully prevent roof damage, let's talk about what your roof is actually comprised of.
Your Roof is Made Up of Many Components
If you stand outside your home and look up at your roof, you will see shingles, your gutters, and a chimney with its flashing, if you have one. But these are just the exterior components - there are other parts you can't see from this viewpoint.
Underneath the shingles is an underlayment and beneath that is solid decking, or wood, that the underlayment and then shingles sit on top of. Beneath the decking are the rafters, collar beams, and a main ridge board that defines your top-most roofline. Across the rafters are slats of wood known as spaced sheathing on top of which the solid decking is affixed.
Attached to the roof is flashing, those strips of metal that prevent leaks around chimneys, vents, skylights, and sometimes in the "valleys" where your different roof sections meet up. Finally, your roof likely includes fascia and a gutter system with downspouts.
If we are going to prevent roof damage, we have to think beyond just the shingles and consider everything that is attached to or underneath that top-most layer of your roof.
Roof Inspections
Scheduling regular roof inspections is a great way to prevent roof damage and protect your investment. Not only do you want to ensure that your roof is in good condition, the condition of your roof is an indicator of the condition of your home. Since the roof is the top-most protector of your home, having a good quality roof without damage is important.
Your roof inspector will ensure that there are no damaged or missing shingles, that all flashing is sealed properly, and that there are no exposed areas where leaks can form and run into your attic and below.
These roof inspections will pinpoint problems early on so that if any repairs are needed, the expense is potentially a lot lower than if a problem festers and becomes a much larger concern to deal with.
How to Prevent Roof Damage Due to Debris
Depending on how many trees are in your yard, your roof may end up as a "catch all" for fallen leaves, seeds, flowers, and twigs or small limbs. This debris can build up over time not just weighing down your roof, but also potentially covering up damage that is forming underneath.
Keep Your Roof Cleared of Debris
If your roof has a substantial amount of debris that has been on it for some time, you may be developing sways in your roof, leaks, and significant damage underneath. Regular cleaning and roof washing to remove debris from your roof will not only improve the appearance of your home, but protect your roof from unnecessary wear and tear.
Keep Your Gutters Cleared of Debris
Your gutters are designed to run water away from your home and are not intended to capture debris for safe keeping! Routine gutter cleaning is a must if your home deals with leaves and other tree debris. If you're unsure of when or how often you should have your gutters cleaned, refer to our seasonal guidance on scheduling your gutter cleaning and maintenance.
How to Prevent Roof Damage Due to Trees
Trees are one of the most common challenges that homeowners have when contending with roof damage. Limbs may fall off in storms and falling leaves and other debris collect on roofs and in gutters. Conversely, there are ways to use trees to actually prevent roof damage as well!
Here are a few tips:
Remove Dangerous Tree Limbs
If you have trees close to your house with limbs that hang over your roof, your roof is at risk of structural damage if those limbs either grow into your roof (that can happen!) or if they fall off during a storm or on a windy day.
Pruning back heavy limbs reduces your risk of extensive damage, especially if you have large trees with very heavy branches in the danger zone. If you are unable to remove the limb yourself, hire a tree expert to do it for you. The cost they charge to remove the limb will be far less than any damage that may occur if the limb were to fall on your roof.
Besides protecting against sudden major damage, removing low-hanging branches will also reduce the amount of leaves and other debris that has to be cleaned out from your gutters.
How to Strategically Plant New Trees
Plant trees away from your house
You can prevent roof damage by planting new trees away from your house. Factor in the expected mature size for your tree and make sure that you plant it far enough away from your house so that any branches will not grow too close to or over your roof.
Besides the benefit of eliminating potential roof damage, any fallen leaves can be easily raked up versus scooped out of your gutters!
Plant trees so that they block the wind
Wind damage is one of the main causes of roof damage. Wind can press upwards under your eaves or get under shingles and lift them up. If your home is located in a way that creates a wind tunnel, or if winds consistently come from one direction, planting trees so that they block the wind from hitting your home is a great way to beautify your landscape and help protect your home and roof.
Prevent Roof Damage Due to Ice Dams
Ice dams can be a huge hazard for your roof. An ice dam is a build up of ice that collects just above your gutters. Ice dams are formed by melting snow on your roof that trickles down towards your gutters and refreezes instead of washing away.
Ice dams are dangerous because they weigh down your roof. Additionally, water can seep under your shingles and leak into your home's attic, causing interior water damage.
Preventing ice dams can be done in a number of ways, the best being to ensure that there is enough insulation in your attic to prevent the conditions that can cause ice dams. Once ice dams are formed, you can melt them using gutter heating strips or ice melt socks. If handling the removal of ice dams on your own, be very careful since climbing ladders in icy conditions can be quite treacherous! Alternatively, you can rely on a professional to complete the job for you.
Make Repairs to Prevent Further Roof Damage
The best time to repair your roof is as soon as you see there is a problem. Just like watching a thread unravel on your favorite sweater, holding off on roof damage repairs will only increase the impact of the damage, and your repair costs. Repairing leaks and broken or lost shingles can remain a small job if handled right away.
Repair Damaged Gutters
If you notice broken or leaking gutters or gutters pulling away from the roof, make sure those are handled right away as well. Remember that your gutters not only direct water away from your house so that your walls and foundation are spared from water damage, but your roof benefits from a working gutter system as well. Gutters help move water away from your roof so that it doesn't pool and get under your shingles. On-time gutter repair will help protect your roof from potential gutter damage.
Ned Stevens Gutter Cleaning of Long Island
Periodic gutter cleaning and maintenance helps protect your roof and home from water damage. At Ned Stevens Gutter Cleaning of Long Island, we offer complete gutter cleaning, maintenance, repair, and installation services. We can handle the toughest jobs including ice dam removal as well as roof services, window cleaning, and pressure washing services.
Contact Ned Stevens Gutter Cleaning of Long Island today for a free estimate.