Roof Washing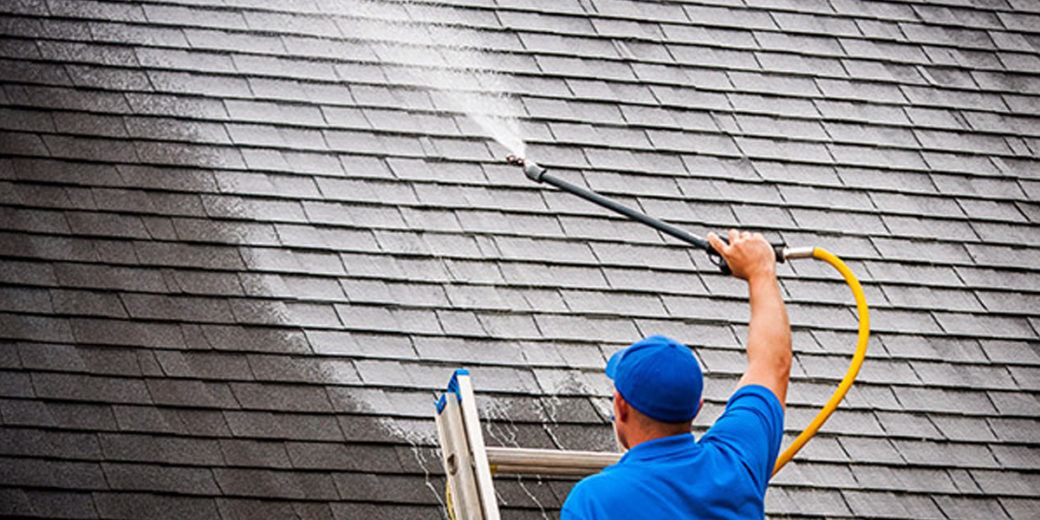 Roof Washing Services on Long Island, Nassau, and Suffolk County
One out of every three roofs are replaced early because the homeowner didn't know roof washing was a viable option. Most homeowners are unaware that most or all of those unsightly black streaks, moss and algae can be completely cleaned.
Since 1965, Ned Stevens Gutter Cleaning of Long Island has been helping homeowners extend the lives of their roofs with professional roof washing services. We are fully licensed and insured to operate in Nassau County and Suffolk County. Our experts take an infinite amount of pride in the work we do. Best of all, we offer free roof washing quotes.
Why Should You Schedule Roof Washing?
When most people hear about roof cleaning for the first time the most common question is, "Why should I have my roof washed?" One of the top reasons you should have your roof washed is that it is a cheaper and more effective alternative to prematurely re-roofing your home.
At Ned Stevens Gutter Cleaning of Long Island, we offer several money-saving reasons you should schedule roof washing or a roof cleaning for your home in Nassau County or Suffolk County, New York.
Stop the Damage and Protect Your Roof
Stop the damage that roof staining organisms are causing to your roof. Organisms such as moss, lichen, and especially algae are feeding on the organic material in the shingles that make up your roof.
Simply put, your shingles are serving as a buffet for dangerous organisms. The longer you allow these organisms to dine on your roof, the more damage they are likely to cause. Eventually, moss, roof algae, and lichen will eat through the shingles and eventually cause wood rot in the roof deck.
Once the wood rots, moisture creeps into the cracks to create an environment similar to a petri dish for mold. To make matters worse, mold growth will pose significant health risks to people as well as pets inside the home. Stop the roof damage today, and do not ignore roof stains.
Your Homeowner's Policy Can Be Canceled
Did you know your insurance company can cancel your policy for homeowner's insurance for a unkempt roof? More and more, insurance companies are demanding that homeowners have their roofs washed or cleaned.
Insurance companies understand how untreated roof stains can compromise the integrity of your roof and lead to mold growth. They view roof stains as unnecessary risks that could result in expensive claims.
In some instances, the insurance company only gives a short notice to complete the roof washing. As a result, it's vital to be proactive and have your roof stains removed with roof washing before you receive the notice.
Protect Your Home's Energy Efficiency
If your roof is covered in moss, algae, etc, it will eventually lose its ability to efficiently reflect the sunlight. It's simple — an algae covered roof will absorb heat. When this happens, it will super heat your attic, increase your overall cooling costs, and lead to premature degradation of the wood under the shingles.
Restore the Appeal of Your Home
A dirty, unkempt roof can destroy the appeal of your home. While most homeowners clean their porches, siding, and walkways; don't neglect your roof!
If you ignore those unsightly roof stains — regardless of what you do to bolster the exterior of your home — the roof stains will be the primary focal point of your exterior. And if you are considering selling your home, a professional roof washing is a must!
Critters Are Attracted to Wood Rot
Did you know roof staining organisms can actually attract animals to your home and into your attic? Those roof staining organisms ultimately lead to wood rot, which is irresistible to animals. In nature, animals have learned to associate the smell of rotting wood to shelter and food.
Animals don't choose random spots to enter your home. Instead, nine out of ten times they will choose the spot where wood has started to rot. Prevent animals from entering your home by reducing wood rot with professional roof washing.
Ned Stevens Roof Washing Service
With our environmental footprint in mind, Ned Stevens Gutter Cleaning offers a completely biodegradable hydrogen peroxide based roof-cleaning product manufactured by Wash-Safe Industries. It is sprayed on and rinsed with a low-pressure wash to ensure the safest roof cleaning possible. In addition, our biodegradable hydrogen peroxide product lasts.
Our results speak for themselves — depending upon the location of your home, our roof washing service can last up to three years or more. Many of the roofs we washed 5 years ago are still clean and not attracting animals to the attic!
Contact Ned Stevens Gutter Cleaning of Long Island for Roof Washing
If you still have several years left on the service life of your roof and your roof is showing signs of roof mold, algae, moss, mildew or lichen; you will definitely benefit from a roof wash from Ned Stevens Gutter Cleaning of Long Island. Our experts will save you time, money, and get the job right. Most importantly, we will keep your feet on the ground!
Contact Ned Stevens of Long Island for a free roof washing quote.