Ice Damming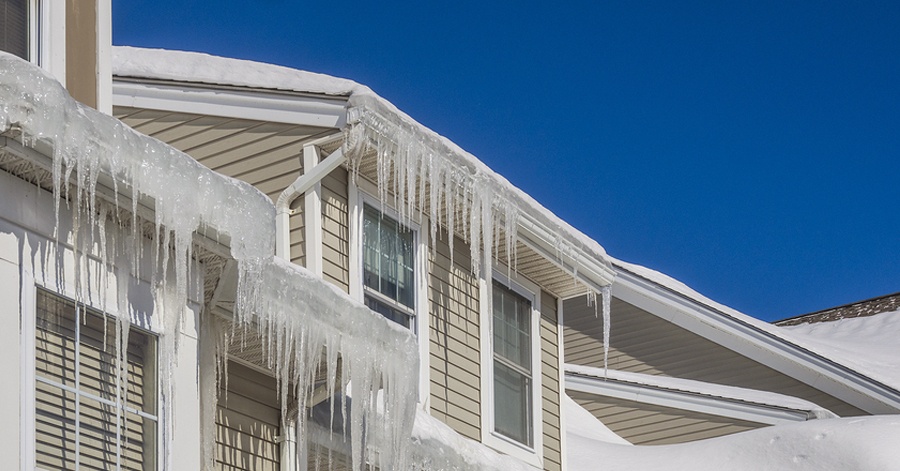 Ice Damming on Long Island (Nassau County & Suffolk County)
Icicles may be pretty, but they can loosen shingles, tear off gutters, and cause water to backup into your home. This makes ice damming or ice dam removal a vital home maintenance service for homeowners throughout Long Island, Nassau County, and Suffolk County area.
As a licensed and insured contractor in the area, Ned Stevens Gutter Cleaning of Long Island provides expert ice damming or ice dam removal solutions for homeowners. Regardless of where the ice dam is located, our experts will deliver fast and efficient ice damming solutions.
How Do Ice Dams Form?
Ice dams are caused by cold, heat, and snow. Initially, snow falls onto your roof. Then heat from the interior of your house causes some of the snow to melt, typically at the higher sections of the roof.
This is due to the fact that warm air inside the home is rising to the highest point. When the snow melts at higher sections of the roof, it travels down the roof until it hits the colder, frozen sections. These colder, frozen sections act as a frozen dam, causing the melting snow to back up under the sections. At this point, the melting water can get almost anywhere!

The ice dam continually grows as it is fed by more melting snow. The whole while additional water continues to build and accumulate. Eventually, the water finds its way under the roof shingles and flows into your attic, soffits, walls, etc., and leads to a host of other problems.
Dangers of Ice Dams
Ice dams can be extremely problematic and costly. If left untreated, ice dams can force water to leak from the roof into your home. When this happens, it can cause a host of problems, such as:
Ice dams are associated with rotted roof decking, rafters, and sheathing. Ice dams can also cause rot to the interior and exterior wall framing.
Ice dams can cause mold and mildew growth that can lead to complications for people with respiratory illnesses, such as asthma and allergies.
The icicle cycle results in the overall reduced effectiveness of insulation. If the insulation is wet, it will not work as well. Chronically wet insulation will not decompress — even when it dries. Failure to have properly working insulation can cause even more heat to escape to the roof, which will cause more snow to melt. This leads to more ice dam formation and a continual cycle of leaks and associated problems.
Once icicles form, they can grow to be very large. Since icicles are a large mass, they can break off and cause siding, gutter, and roof damage. Most importantly, large icicles can break off and injure anyone standing near or beneath the gutters or roof.
Leaking water from ice dams will cause the paint on your home to peel. Water from the leak eventually infiltrates wall cavities, which causes paint to blister and peel. This effect may happen long after the dam has melted, allowing the cause of the leak to be misdiagnosed.
How Do You Know if You Need Ice Dam Removal?
The majority of ice dams develop on the edge of your roof. However, they may form in other locations based on the style of your roof, orientation, and slope. If you're looking to detect ice dams, make sure to monitor the weather and roof for signs of ice dam formations. Generally, there are two relatively easy ways to determine if your home needs ice damming.
Pay attention to the icicles on the outside of your home. If the icicles are limited to the gutters and no water is trapped behind them, it's not likely an ice dam has formed. Even so, icicles are often precursors to ice dams. This is because the same conditions that allow the formation of icicles also lead to dams. If possible, you should remove icicles from your home's exterior.

Inspect your home for water damage or moisture, especially in the soffits and in the attic ceiling. Pay special attention to the ceiling of the exterior walls, where you are most likely to notice damage. If you do notice moisture or water stains, it may be an indicator of an ice dam formation and water has penetrated through the roof membrane.
Contact Ned Stevens Gutter Cleaning for Ice Damming
Ice dams can temporarily be addressed by breaking up and removing the ice so the water can flow flow off the roof and away from the home. In order to do this, the gutters are removed, so the affected icy areas can be removed and allow for better roof drainage.
We can also — if you would like — replace your affected gutters as soon as the weather permits with new custom fit gutters backed by the full Ned Stevens Gutter Guarantee. We will even apply a credit of $100.00 towards your new replacement gutters.
Contact Ned Stevens Gutter Cleaning today for a free ice damming quote.