Gutter Protection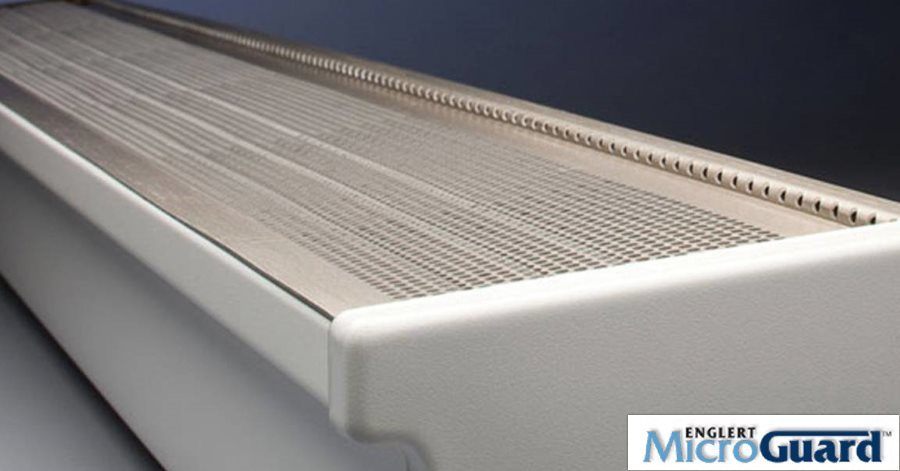 Gutter Protection in Long Island, Suffolk & Nassau County
For as long as gutters have been used to control roof drainage, gutter protection has been in existence.
Today, there are a seemingly endless number of products on the market claiming to eliminate the need for gutter cleaning. However, nearly all of these claims are nothing more than over inflated promises — or outright lies.
Since 1965, Ned Stevens Gutter Cleaning of Long Island has been delivering cutting-edge products and world-class service to customers throughout the Northeast region. As licensed and insured gutter experts, we have tested many of these products to validate the claims of the manufacturer. Instead of offering gutter protection products and gutter covers that do not work, we offer two products that have been tested, tried, and proven to work.
Low Cost, Economy Gutter Protection or Guards
Our "Economy" product is a milled aluminum screen that slips under the first course of roof shingles and onto the front lip of the gutter. Ned Stevens of Long Island offers this product in either 3 or 4 foot sections.
Our economy gutter protection is relatively easy to install and is generally not permanently affixed to the gutters – so removing them is a simple process. The screen product is sold as a "preventative measure" for maintaining gutters and not as a "never clean your gutters again" solution.
Screens are usually recommended for customers who require more than two gutter cleanings a year, but do not mind continuing to pay for 1 gutter cleaning per year even after the screens are installed.
Benefits of Gutter Protection from Ned Stevens Gutter Cleaning of LI
Gutter protection saves you money. With less work required to clean your gutters, gutter guards can reduce maintenance and save you money.
Prevent clogged gutters and insect infestation with gutter protection. Clogged gutters can result in standing pools of water that act as insect and mosquito breeding grounds. Gutter guards will help avoid this scenario.
Gutter protection can significantly reduce the premature deterioration of the metal integrity of the gutters. Degrading biomass (pollen, leaves, twigs, etc.) will change the PH balance of the standing water in the gutter and this can lead to metal corrosion.
Gutter protection helps prevent freezing in New York's damaging winter. Dry leaves in the gutters have been known to catch fires from floating embers emitted from chimneys, backyard fire pits and chimeneas. If water is trapped in your gutter during the winter, it can freeze and cause blockage, which leads to ice dams and water seeping into your house.
Gutter guards can provide fire protection. When your gutters are free of debris, it reduces the likelihood that material will catch fire from floating embers.
LeaFree Premium Gutter Protection
The "Premium" gutter protection product is called LeaFree. It is a unique, patent pending leaf and debris shedding gutter system that is installed over your existing gutters. LeaFree works on the scientific principle of water adhesion. So when the water rolls off the roof shingles and onto the LeaFree cover, it sticks to the cover and rolls into the open water channels in the cover.
This product has an attractive low profile design that enhances the look of your home by blending in with your roofline and hides unsightly metal flashing. LeaFree comes in White, Brown, Copper and 12 other colors to match any home's exterior. It is made of .024 gauge aluminum and has a baked on coating guaranteed to never fade, chip, crack or peel.
LeaFree is guaranteed by the manufacturer as well as Ned Stevens Gutter Cleaning of Long Island to never require further gutter cleaning. The installation is a custom job with each section of LeaFree bent to match the specific pitch of each roofline. In essence, this product is for customers who need at least 4 gutter cleanings per year or multiple gutter cleanings per season (ie. A November and December cleaning).
Benefits of LeaFree Premium Gutter Protection
Extremely Reliable - LeaFree Premium Gutter Protection handles any level of rainfall ever recorded. The specialized patent-pending, high-water-flow panels and interior miters are offered for spots with high water flow, such as valleys and high sloped roofs.
Variety of Color Options - LeaFree Premium Gutter Protection is available in 15 colors to match your existing or new gutters.
Simple Installation - With screws only located in the gutter lip, panels can slide and interlock under the first row of the shingles. It involves no screwing into your fascia and/or roof.
Easy to Repair - Since the panels are 4 feet long, they are easily replaceable in the event they're damaged.
Highly Attractive Appearance - LeaFree Premium Gutter Protection is very low profile because the panels install under the initial row of shingles. With color matching, it can be used to improve your curb appeal by matching the color of your gutters.
Exceptionally Versatile - LeaFree Premium Gutter Protection can be installed on any roof type or pitch — thanks to the flex bend seam.
Contact Ned Stevens Gutter Cleaning of Long Island
Regardless of your budget or style of gutters, the experts at Ned Stevens Gutter Cleaning will help you find the best gutter guards or gutter protection for your needs.
Contact us today for a free gutter guard or gutter protection quote.