New MicroGuard Gutter Protection Now Offered at Ned Stevens Gutter Cleaning of L.I., Inc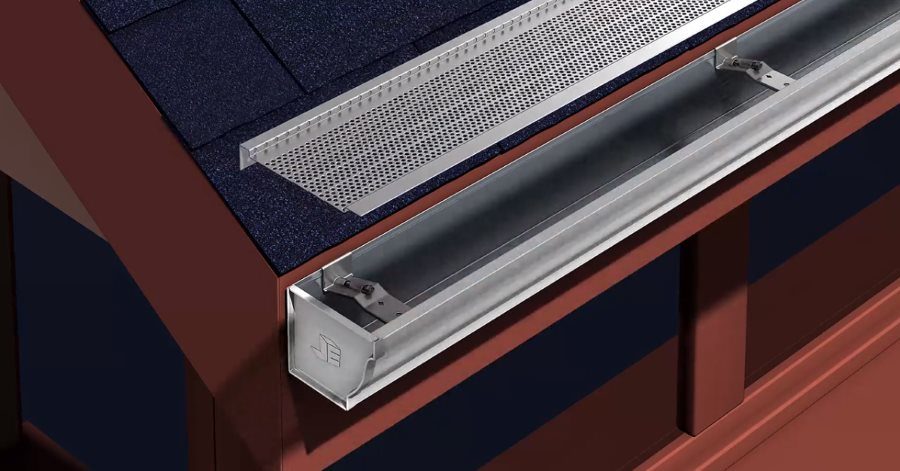 At Ned Stevens Gutter Cleaning of Long Island, we're proud to be a premier service provider — offering affordable solutions and world-class customer service to homeowners throughout Long Island since 1998. In the process of meeting your needs, we are always on the lookout for new and improved products to better help protect your home.
While we previously offered two different gutter protection products — an economy milled screen product and LeaFree premium gutter protection — we've recently expanded our product line to include the MicroGuard gutter protection system manufactured by Englert, Inc. here in the U.S. Just like we stand behind our other tested, tried, and proven gutter guard products that work, after exhaustive testing, we stand behind the MicroGuard gutter protection system. Continue reading to learn more about the MicroGuard gutter protection system and why you should choose it to protect your home.
What Is the MicroGuard Gutter Protection System?
The MicroGuard gutter screen — manufactured by Englert Inc. a recognized leader in the metal roofing and components industry — boasts the latest in micro-filtration technology and provides exceptional leaf protection.
It features uniquely angled micro-perforations that work to prevent larger debris from sticking to the screen while directing water into your gutter and away from your home.
It also features a stepped, raised groove to prevent water from splashing back towards the home preventing water from traveling underneath the shingles on your home. Each component of the MicroGuard system is engineered to integrate with individual gutter parts, which creates a streamlined appeal.
Why Choose MicroGuard Gutter Screen?
With MicroGuard, you can say goodbye once and for all to cleaning acorns, small twigs, leaves, and other debris from your gutters - including pine needles!
In addition to reducing or sometimes eliminating the number of required gutter cleanings, MicroGuard offers the following benefits:
In Most cases, MicroGuard is virtually invisible from the street and naturally flows with your existing roofline. This effective and unique filtration system blends perfectly with the silhouette of your home, and in most you'll never know it's there.
MicroGuard will not void your roof warranty. MicroGuard doesn't penetrate roof shingles, which means you can leave your roof warranty intact.
MicroGuard features ultra-reliable and durable construction built for maximum strength. Each system is engineered with heavy-duty .032 aluminum, which means it will never bend, bow, or separate from the gutter.
MicroGuard is versatile. Because MicroGuard is offered in three different configurations, the experts at Ned Stevens can certainly match your roof and home to the perfect product.
Ned Stevens Gutter Cleaning of Long Island stands behind MicroGuard. If you don't believe MicroGuard's claims, believe in our nearly 60 years of experience. We've tested and tried MicroGuard, and it stands up to the hype.
Your Home, Your Style, Your MicroGuard
When you choose MicroGuard, your Ned Stevens Gutter Cleaning of Long Island professional will work closely with you to understand your needs, wants, goals, and budget.
This revolutionary gutter protection system is available in three different configurations, which allows us to use the screen in an array of roof conditions, including varying gutter, soffit and eave conditions.
Traditional MicroGuard is seamlessly attached to the front of your gutter, while the back sits faced down on the back bracket.

Reverse Bend MicroGuard uniquely attaches to the front of your gutter. The back part of the screen faces up and fits perfectly under the drip edge, which prevents water from coming off of your roof and navigating behind your gutters, providing further protection of your fascia boards.

MicroGuard Flat is affixed to the front of your gutters. However, the back is flat and seamlessly fits underneath the first row of shingles on your roof — assisting in any areas where your shingles have been cut too short.
Contact Ned Stevens of Long Island for MicroGuard Gutter Protection
When it comes to choosing the best gutter protection solution, there are no sure-fit universal solutions. What works well for your neighbor's home may not be suitable for yours. Because of this, your Ned Stevens Gutter Cleaning of Long Island expert will carefully inspect your roof to guide you to the most effective gutter protection system.
Since 1965, we've helped our customers protect their home and keep their property beautiful by offering a range of home improvement solutions, including:
Contact Ned Stevens Gutter Cleaning of Long Island today for a free MicroGuard gutter protection consultation.