Seamless Gutters vs Regular Gutters — Which One Is Better?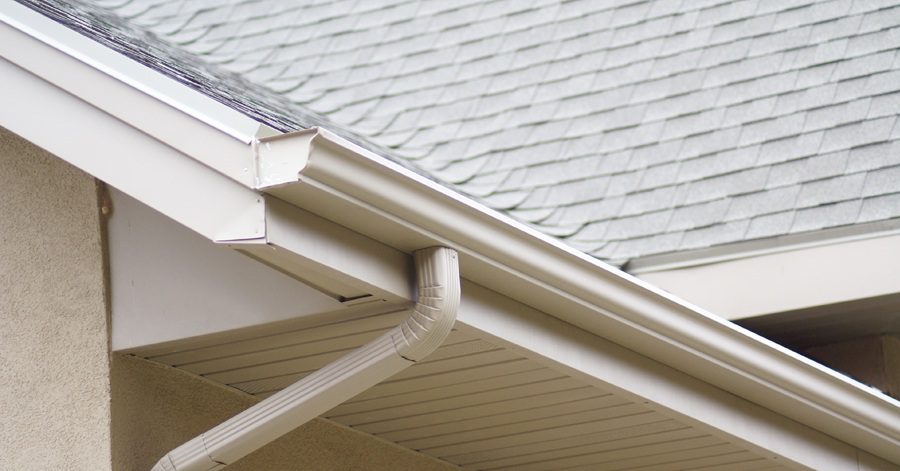 If you need new gutters for your home, you've most likely been presented with the choice of seamless gutters vs regular gutters. Both options are designed to protect your home from water damage by moving water away from the foundation and basement.
While both seamless gutters and regular gutters are designed to achieve the same goal, they each have different ways of getting there, and one is almost always more effective than the other. Continue reading to learn more about seamless gutters vs regular gutters.
Traditional Gutters, Regular Gutters, or Sectional Gutters
Traditional, regular, or sectional gutters are designed in precut sections that are easy to assemble. These gutters are usually pieced together in 10-foot or 20-foot sections and have multiple seams. Each gutter section is joined together with connectors or couplings, and each section must be soldered or sealed at the joint. You can choose regular gutters in a vast array of materials.
Vinyl Sectional Gutters
Vinyl regular gutters are quickly growing in popularity primarily due to the fact they do not rust, are simple to install, do not need to be painted, or require any other aesthetic conditioning. If you're on a tight budget, vinyl regular gutters are the most economical.
However, the primary downside to vinyl gutters is their durability. Overtime as they're exposed to extensive dryness, heat, and intense cold weather, they can deteriorate and crack. At the same time, vinyl gutters can be functionally damaged due to heavy rains.
Steel Regular Gutters
Steel is undoubtedly the strongest material, which makes it ideal for lots of snow, heavy rains, and extreme weather. Steel — however — can rust when it comes in contact with moisture. In addition, steel sectional gutters can be heavy, which makes installation more arduous. Steel is typically most often used on commercial structures.
Copper & Aluminum Traditional Gutters
Aluminum and copper gutters are both strong and do not rust. By regularly maintaining your copper or aluminum traditional gutters, they can easily last for several decades. You can find aluminum gutters in a vast expanse of colors, which means painting isn't necessary — unless you want to match your gutters to your home - and even then, most manufacturers offer aluminum gutters in popular siding colors.
Seamless Gutters
Seamless gutters are continuous gutters usually made from aluminum, copper, painted steel, or zinc. These gutters usually only have joints or miters at the corners wherever they wrap around the roof Typically, seamless gutters are roll formed off a truck mounted machine at the installation site.
Since seamless gutters have no seam, the chance of leakage is exponentially reduced, which is why they have become the most popular type of gutter. Now we've discussed both traditional gutters and seamless, let's take a look at the comparison between seamless gutters vs regular gutters.
Installation: Seamless Gutters vs Regular Gutters
While sectional gutters, regular gutters, or traditional gutters can be installed by the experienced DIYer, seamless gutters must be installed by a professional. Seamless gutters are uniquely designed to exact measurements for your home and are installed in single pieces. These single pieces are cut on-site using a special roll forming machine that is fed with sheets of the material you choose.
In contrast, sectional gutters involve a "snap-together" system that requires components to be welded or sealed together. Sectional systems can have a lower initial installation cost because the average handyman or contractor should have no problem installing a sectional gutter system since the sections do not need to be "exactly" measured. However, you should also factor in the costs associated with painting, maintenance of the sectional system and shorter life span.
Maintenance and Durability: Traditional Gutters vs Seamless Gutters
While sectional gutters may be easier to install initially, you must continually check the joints and seals over time as well as fix them whenever they break - and they WILL break! This is an ongoing chore because you'll need to keep a close eye on every connection point.
In contrast, seamless gutters are much easier to maintain and are more durable— besides, they're just long, uniform sections of metal. The only connecting points are at the downspouts and corners.
Leakage: Seamless Gutters vs Sectional Gutters
Because seamless gutters do not have sections, they only have seams at the downspout and corners. This significantly limits the likelihood of leakages. Although seamless gutters are not leak proof, they are far less likely to leak than regular sectional gutters.
Which One to Choose: Seamless vs. Regular Gutters
When it comes to choosing between regular gutters vs seamless gutters, everyone's needs are different. However, seamless gutters are often viewed as better than sectional gutters because of their ability to reduce leaks. Even the most soundly-constructed seams on sectional gutters will begin to wear away and degrade over periods of time.
In addition, seams develop along the bottom of the gutter, which causes water to back up and allow debris to form blockages. Seamless gutters actually avoid this problem completely, making them easier to clean and maintain. Since seamless gutters are shaped from a single piece of metal, they have a much more attractive uniform appearance than sectional gutters.
Contact Ned Stevens Gutter Cleaning of Long Island
If you're on the fence between seamless gutters or regular gutters, the experts at Ned Stevens Gutter Cleaning of Long Island can help. Contact Ned Stevens Gutter Cleaning of Long Island today for help choosing the best option for your home.