Really…Are Seamless Gutters Worth It?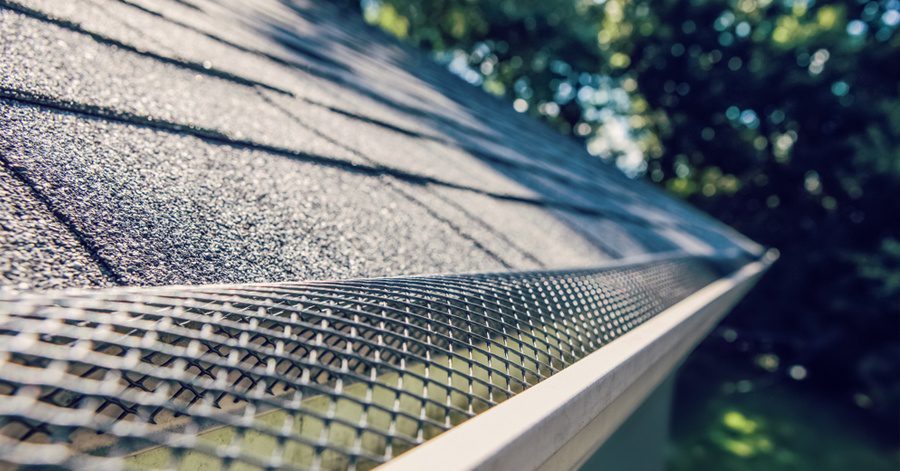 If you're like most homeowners, you've probably asked "Are seamless gutters worth it?" Whether seamless or sectional gutters, the gutter system is an important part of your home. The types of gutters you have on your home protect the exterior walls from rain and water damage.
However, not all gutter systems are created equally, and seamless gutters are simply the best. While sectional gutters have several interconnected parts, the seamless gutter offers one, uninterrupted path that carries debris and water away from your home.
Gutters are intended to help prevent water from entering the interior of your house. Seamless gutters, in particular, offer many benefits to homeowners that other types of gutter systems may not be able to provide. In this article, we will discuss the advantages seamless gutters have over traditional, sectional gutter systems
Seamless Gutters Offer Increased Strength and Durability
Traditional sectional gutters use seams to attach multiple shorter pieces. These gutters can be susceptible to leaks in certain weather conditions, especially if they weren't installed correctly or maintained over time.
Seamless gutters systems don't have any of these weak points that could cause gutter problems down the road. These gutters will provide you with years of solid protection for your home's exterior walls.
Seamless Gutters Offer Improved Water Flow
Some homeowners may choose to use a traditional sectional gutter system because they want their gutters to direct water away from the house. If this is your desired outcome, we recommend using seamless gutters vs regular gutters.
That's because seamless gutters do not have any seams that can interrupt or restrict the flow of water in different ways. Seams will almost always leak eventually. Instead, this drainage system allows water to freely and safely flow away from your home.
Seamless Gutters Have More Design Options Than Sectional Gutters
While both seamless gutters and sectional gutters come in different shapes and sizes, the seamless gutter offers more design options. Seamless gutters can be customized to fit any home, from modern to traditional.
You can opt for seamless gutters in virtually any material, including copper gutters, aluminum gutters, steel gutters, and more. If you're looking for aesthetically pleasing gutters that will look great on your home, seamless gutter installation is the way to go.
Seamless Gutters Offer Easier Cleaning and Maintenance
Despite what some homeowners may think, gutter cleaning is important. However, cleaning sectional gutters in the wrong way can remove the gutter's protective sealants, leaving it more susceptible to damage from all kinds of outside elements.
Fortunately, seamless gutters are easier to maintain vs sectional gutters. In fact, the seamless gutter system is designed for easy cleaning and maintenance. Why? Because older gutters or sectional gutters have seams.
And these seams found in sectional gutters are magnets for leaves, dirt, sticks, and more to become embedded. Quite often, we find the sealants on these seams to have been improperly applied. Due to the fact that seamless aluminum gutters do not have seams, they require less maintenance and have fewer opportunities to clog or malfunction.
Seamless Aluminum Gutters Can Improve Home Value
There are many reasons why a homeowner should invest in aluminum seamless gutters for their home. At the top of that list is preventing water from entering your home. Also important is the increased value to your property over time. If you ever decide you want to sell, having this type of gutter system protecting your home will help attract potential buyers and give them confidence about the quality and durability of your roof as well as your attention to properly maintaining the home.
The Seamless Gutter Drainage System Offers Better Weather Protection
If you're worried about the damage that can occur to your home's exterior walls due to rain, snow, or extreme weather, installing seamless gutters is a great way to protect them. Ned Stevens gutter systems are made with state-of-the-art roll forming equipment, superior materials and modern techniques, so they are less likely to bend, tear, or rust over time as older or sectional metal regular gutters might.
Seamless Gutter System Offers Better Protection for Your HVAC Unit
If you have an HVAC nearby to your home or under a soffit, it needs to stay dry to function correctly. Otherwise, the internal components can become damaged and stop working efficiently. Seamless gutters will help keep your HVAC unit dry and prevent any potential damage to its internal components.
Seamless Gutters Have More Flexibility and Options
Whether you opt for copper gutters, aluminum gutters, steel gutters, or any other type, your seamless gutters can be installed in a number of ways. Some homeowners prefer to use gutter guards with their gutters, whereas others may not be as concerned with debris accumulating in the gutter system.
This consideration should be based on where you live, the number of trees around your home, and other factors. With this type of system, you'll have more flexibility when it comes to how they're designed and what kinds of materials are used.
Contact Ned Stevens Gutter Cleaning of Long Island Today
A seamless gutter installation is an excellent addition to any home, but it may not suit every homeowner. Fortunately, Ned Stevens Gutter Cleaning of Long Island can help. We offer professional gutter installation and maintenance.
Most importantly, we can help you decide if seamless gutters are right for your home style, design, and budget. Whether you're looking for a new gutter system or to have your existing system repaired, we can help. Best of all, you can request your free estimate today!
Contact us at Ned Stevens Gutter Cleaning today 800-843-9442!