Commercial Window Cleaning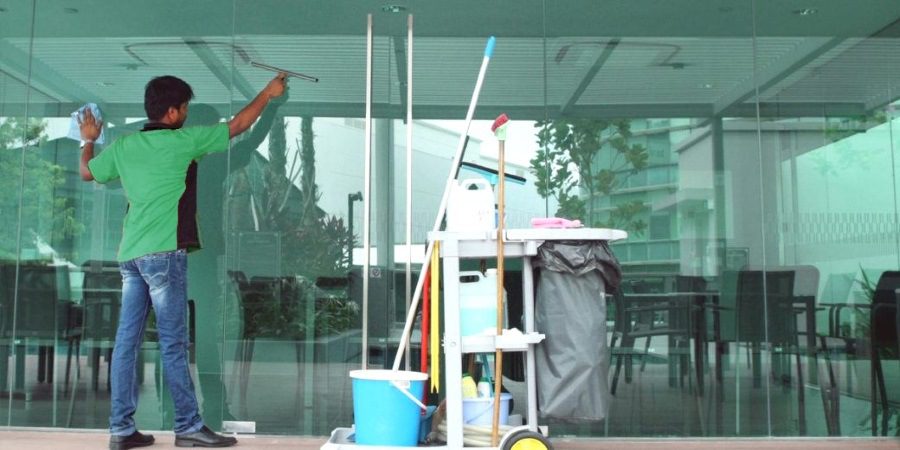 Commercial Window Cleaning on Long Island (Nassau County & Suffolk County)
Since you never get a second chance to make a first impression, ensure your business is inviting and appealing to customers with commercial window cleaning by Ned Stevens Gutter Cleaning of Long Island. A clean establishment inspires customer confidence, especially when a potential customer needs to look through your windows to see your products.
Curb appeal cannot be overestimated. Some may consider window cleaning a luxury, but successful business owners know it's a necessity. At Ned Stevens Gutter Cleaning of Long Island, there is no job too small or too big, and we proudly service several types of businesses in the area, such as:
Grocery stores
Shopping centers
Restaurants
Car dealerships
Retail stores
Commercial buildings (3 stories and under)
Commercial Window Cleaning Services
At Ned Stevens, we are licensed and insured company, and all of our commercial window cleaning experts are highly trained to use the best practices. We take our commercial window cleaning services seriously and abide by all environmental requirements.
Our team of commercial window cleaning experts offer a long list of services for business owners throughout the Long Island, Nassau County, and Suffolk County areas. Some of our most commonly requested commercial window cleaning services include:
Interior and exterior commercial window cleaning
Screen cleaning
Ceiling fan cleaning
Mirror cleaning
Construction clean-up
Skylight cleaning
Reliable year-round scheduling
Chandelier cleaning
Customized commercial cleaning programs
Emergency cleanings
Convenient billing options
Benefits of Commercial Window Cleaning
Clean windows — like a clean establishment — enhance the environment for everyone. Our commercial window cleaning services are the prime solution for bolstering the appeal of your companies.
We specialize in delivering commercial window cleaning services for businesses throughout Long Island, Nassau County, and Suffolk County. From restaurants to strip malls, our experts bring decades of experience keeping businesses in the area clean and professional. When you partner with Ned Stevens for commercial window cleaning, your business will enjoy several benefits, such as:
Stay in compliance with your lease.

Proper commercial window cleaning is a key component of building maintenance. Partnering with Ned Stevens Gutter Cleaning of Long Island for professional window cleaning service may successfully help you meet the requirements of your lease.

Clean windows promote good health.

By maintaining clean windows, you will remove the dirt and dust that naturally accumulates on glass panes. This helps your employees and customers avoid complications with asthma and allergies.

Improve indoor air quality (IAQ).

Clean windows are excellent at mitigating the plethora of indoor contaminants, such as chemicals, poor ventilation, humidity, and dirt. All of these contaminants contribute to low IAQ.

Clean windows can help lower utility bill.

If your windows are dirty, the caked grime and dust will filter out the natural sunlight your employees need. Clean windows allow the sun's rays to flow in while increasing the warmth of the building during the window.

Commercial window cleaning services is safer.

If you own a multi-level building or a structure, you can't expect your employees to undertake the daunting task of cleaning the windows. Keep in mind the dangers and liability of employees climbing up and down ladders. However, the experts at Ned Stevens have the right experience, equipment, and certifications to safely complete the job.

Clean windows improves productivity.

It's a fact—dirt and clutter decreases productivity. An unclean working environment causes employees to have to manage allergies and illnesses, which can affect the number of sick days they take throughout the year.
Simply put, clean windows offer your business much more than an increased curb appeal.
Save Time with Scheduled Commercial Window Cleaning
As a business owner, time is of the essence. At Ned Stevens Gutter Cleaning of Long Island, we understand the time constraints business owners face. As a result, we offer a variety of commercial window cleaning programs for businesses of all sizes.
We offer weekly window cleaning services, bi-weekly window cleaning services, monthly, as well as quarterly. Our service professionals are punctual and take an infinite level of pride in what they do.
Best of all, we offer discounted window cleaning contracts for business owners throughout Nassau and Suffolk County, New York.
Contact Ned Stevens for Commercial Window Cleaning
Since 1965, Ned Stevens Gutter Cleaning of Long Island has built a solid reputation for delivering expert commercial window cleaning services. Unlike the competition, we stand behind and take pride in our work.
We will save you time and complete the job in an unobtrusive manner based on your schedule. Contact Ned Stevens Gutter Cleaning of Long Island today for a free commercial window cleaning quote.