Do All Roofs Need Gutters? Prepare to Be Surprised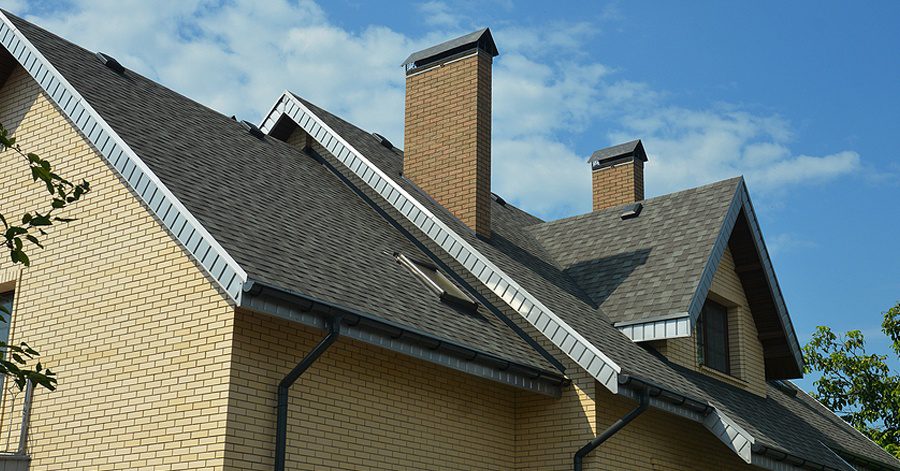 At Ned Stevens Gutter Cleaning of Long Island, we are often asked "do all roofs need gutters?" And the short answer is no — every type of roof doesn't need a gutter system.
However, more often than not, you should install gutters on your home. Let's take a closer look at this question to learn which types of roofs need rain gutters vs which types of roofs can get by without installing gutters..
Seriously…All Homes Do Not Need Gutters?
For the most part, if you live in Long Island with regular rain and snow, you will need gutters installed on your home to protect it and your wallet. However, if you live in an area that doesn't get snow or a lot of rainfall, you may be able to forgo a gutter installation.
This is due to the fact gutters are designed to protect your roof and home against rot and other types of damage. And if your area doesn't experience regular rains or other inclement weather, the potential for damage may not be a reality.
If your home and roof has functioned properly without having gutters installed and never had water problems, it's easy to assume it doesn't need gutters. Nonetheless, homeowners should have this assumption verified with a thorough inspection of the property.
Do Metal Roofs Need Gutters?
While most roof types will need gutters, a new house with a metal roof may choose to forgo gutter installation. This is because metal roofs are extremely durable and designed to withstand the damage gutters are designed to prevent.
However, having gutters in addition to metal roofing is always a smart choice and your best bet. Gutters on a metal roof can help:
While a home with metal roofing may choose to forgo gutters, installing gutters will offer you the highest level of protection and prevent potentially expensive problems.
Why Should I Install Gutters on My Home?
As we previously mentioned, your gutters are designed to safely channel rain and storm water away from your house. Without properly installed gutters on your house and roof, water is likely to pool and cause a wide range of property damage.
Once this occurs, you'll be faced with hefty home repair and foundation repair bills. Here are a few of the most common problems standing or pooling water can cause to your home.
Understanding Rain Gutters
Before we dive into which roofs need gutters installed vs no gutter system, it's imperative to clarify what gutter systems do. While water is truly the source of life, it can be especially destructive to your home and foundation walls.
You install gutters to ensure water is safely channeled away from your home. Without a proper gutter installation, a drain or safe area, water runoff will pool around your home. Once this happens, the water will make its way into your foundation to cause foundation damage, basement flooding, soil erosion, and more.
How Do Gutters Work?
Your rain gutters are installed along the eaves of your roof to collect falling stormwater, rainwater, snow, and small debris that falls off your roof. Melting snow and rainwater is drained through the gutter system and away from your home through gravity (assuming the gutters are properly pitched).
Rain starts at the roof, runs through your gutters, is pulled into the downspouts, and is safely drained away from the home.
Common Gutter Materials & Types
Whether they're seamless gutters, k-shape gutters, wood gutters, ½ round gutters, or any other type, all gutters work to move water away from your roofing and home. And homeowners can choose from an array of materials for gutters. Some of the most common types of gutter materials include:
Key Gutter Parts and Components
A gutter system consists of several key parts and components. A few of the most prevalent components are listed below.
Gutter Hangers Are Key Components
Your rain gutters are secured to the roof with gutter hangers that ensure the traditional or seamless gutters are well-supported, stable, and secure. If your gutter hanger system is malfunctioning, it can leave your home susceptible to water damage. There are many grades and styles of hangers on the market ranging from indestructible to downright garbage. Make sure to question what style and brand hanger your gutter expert is using in the repair or installation.
A Closer Look at Gutter Downspouts
One special area of consideration for your gutter is the downspout. The downspout is the long vertical part of the gutter system nearest to the ground. The downspout is the last stop for water before it exits the gutter system and is safely channeled away from your foundation onto the ground.
Aluminum Downspouts
Most downspouts are engineered from aluminum because the material offers a full range of attractive benefits:
Alternatives to Aluminum Downspouts
Your downspouts are paramount to the safe runoff of rainwater. In addition to aluminum, downspouts can be made from:
Regular Gutter Maintenance and Gutter Cleaning Is Paramount
In addition to stormwater, leaves, pine needles, and other types of debris will often make their way through your gutter system. Over time, this debris will clog your gutters and prevent the free flow of water. Clogged gutters can lead to overflowing water, which can cause rotting siding and cracked walls.
Clogged Gutters in Winter Can Cause Ice Dams
In the winter, clogged gutters can lead to ice dams that can cause serious damage and lead to expensive home improvement. The moral of the story is yes, gutters are extremely important. However, it's equally important to have regular maintenance and regular gutter cleanings to ensure your gutters are properly functioning.
Contact Ned Stevens Gutter Cleaning of Long Island
When it comes to protecting your foundation, basement, roofing, and wallet, a gutter system is your best friend. This system is designed to safely move enough water away from the structure and safely onto or into the ground. While gutters may not be required for every home, many homeowners elect to have gutters installed to protect their investment.
Contact Ned Stevens Gutter Cleaning of Long Island today.