Are Metal Roof Gutters a Good or Bad Idea?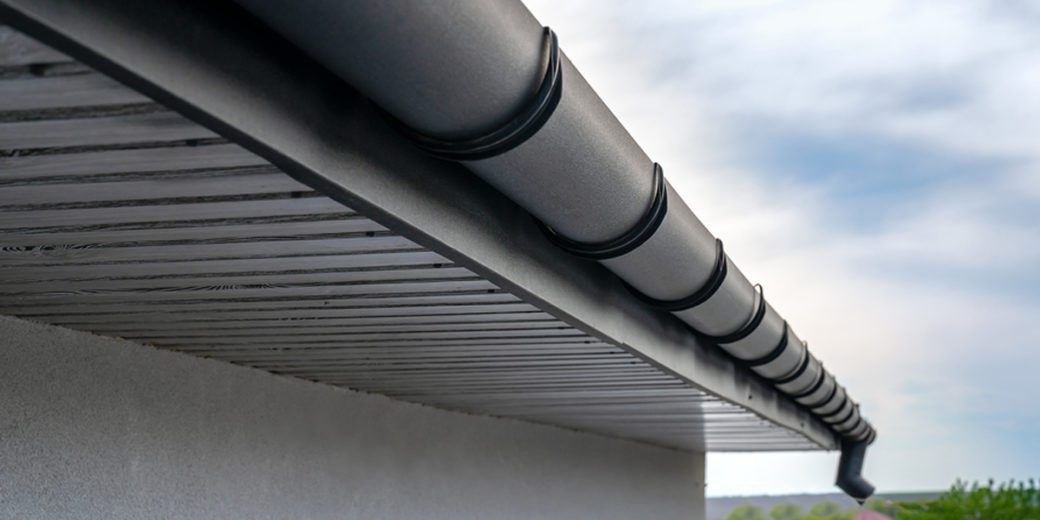 There comes a time in every homeowner's life where they must consider repairing something on the property or replacing it altogether, such as metal roof gutters. Yes, the deck boards creek a bit too often, and your front gate may be falling apart at the seams, but what about the roof?
Certain types of roofs require more attention than others for maintenance, which highlights the importance of roof inspections. The last thing you need is a natural disaster causing havoc on your home or a more subtle thing like mold from creeping inside.
Metal roofs in particular have recently seen a surge in popularity due to their exceptional durability and energy efficiency. Compared to roofs with asphalt shingles, clay tiles, or composite slates, metal roofs can last up to 2 or 3 times longer than the competition. It comes with a heavier price tag than the others, but the cost of high-quality materials and a superior peace of mind is well worth it.
One common problem with metal roofs is their gutter systems, but is that simply a myth or a cold hard fact? The experts at Ned Stevens Gutter Cleaning of Long Island will provide more insight on whether metal roof gutters are a good or bad idea. Continue reading to learn more, and don't hesitate to reach out to the team at Ned Stevens Gutter Cleaning.
How Important Are Your Gutters?
Whether made from metal any other material, all gutters play a vital role in protecting your entire property from rain, snow, and sleet and ice. It protects the building's foundation, sides, and the ground surrounding the perimeter from being battered by everything mother nature has to offer. Without a gutter, any commercial or residential property can potentially find itself in a sticky situation that can cost exponentially more than a gutter installation.
What About Metal Roof Gutters?
Candidly speaking, most metal roofs don't require gutters because they are able to withstand the damage gutters are designed to prevent. However, having a gutter in addition to the metal roof is always a safer choice that will help protect the overall structure, foundation and interior of the home in addition to the roof. And when you do choose a metal roof gutter, you can prevent a host of very expensive problems.
Maintaining Your Metal Roof Gutters
If you decide to go with metal roof gutters, there are a few key considerations you should make. The following problems can impact any gutter system, but metal roof gutters may be especially susceptible.
Clogged Metal Roof Gutters
A clogged gutter can allow water to pour over the gutter and on to the pavement, making it easier to slip during cold or icy weather. Setting up a schedule for regular cleaning is the most effective way to prevent clogged gutters.
Collapsed Gutter
Not cleaning your gutter often enough can also cause it to accumulate weight and eventually break away from the building structure. Consider having an expert install the gutters for you to make sure they are safe and secure.
Overshooting Gutter
To stop water from shooting over the gutter, make sure it is installed high enough and at a positive slope angle to catch rainwater - taking into consideration the varied rates at which it rains - heavy vs. light rain can make a tremendous difference in the angle at which the water streams off the roof. That way, the water will fall into the gutter, run down the spouts and away from the property.
Damaged Gutter
Snow is great to play in, but a potential nightmare for homeowners. If you live in a colder climate, using snow guards is the most optimal way to prevent damage caused by harsh ice and snow.
Fortunately, you can prevent and significantly reduce the likelihood of all of these problems with regular gutter maintenance.
Should I Install Metal Roof Gutters?
Nothing in life is perfect, and that goes for gutters as well. An improperly installed gutter or neglected gutter that never receives maintenance is exponentially more likely to fail. Consideration of proper installation is a crucial part of protecting your home from being damaged, it's not a terrible idea to consider the gutters as part of your routine home expenses.
Invest in Your Property with Professional Gutter Maintenance
Keep in mind there are a variety of gutter systems designed for specific types of buildings and climates. Going to your local Home Depot or hardware store is an option if you want to do it yourself, but you may want to reconsider that route. Investing money into something that breaks down sooner than it is supposed to due to improper installation is not only a major headache, but it can seriously drain your wallet too.
The best way to approach a gutter system is to trust the seasoned professionals at Ned Stevens Gutter Cleaning of Long Island. We offer decades of experience helping homeowners throughout the area select the best type of gutter for their budget, home, and roof style. Simply put, when you partner with the pros at Ned Stevens Gutter Cleaning of Long Island, you'll make a sound investment that will deliver you years of protection.
Contact Ned Stevens Gutter Cleaning of Long Island
Whether you need gutter installation, gutter repair, gutter cleaning, or any other service, the experts at Ned Stevens Gutter Cleaning of Long Island can help. We offer a full array of exterior home cleaning services designed to help your home look its best.
Contact us today for your free quote.