Good, Better & Best Way to Clean Gutters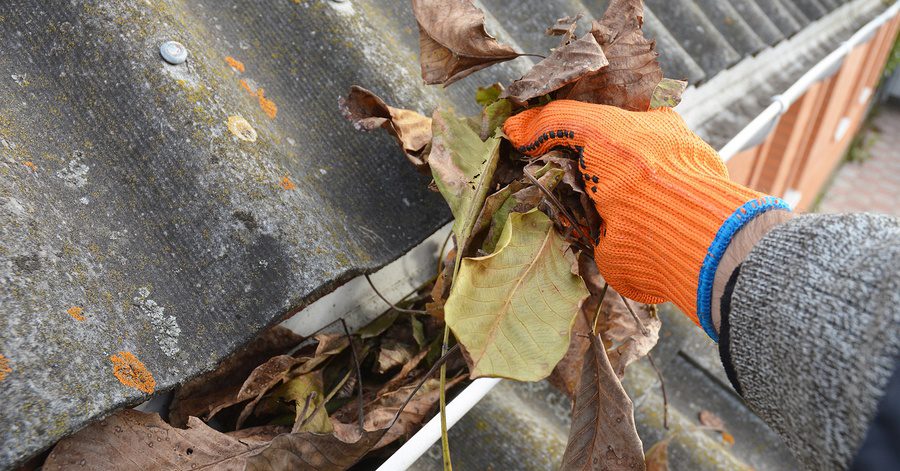 At Ned Stevens Gutter Cleaning of Long Island, we are regularly asked "what is the best way to clean gutters?" Simply put, there are no universal gutter cleaning methods that will work for everyone's gutters. However, we do know that considering the varying scenarios, some gutter cleaning methods are simply more effective than others. Because of this, we always train our professionals to individually assess each job and choose the best method to fit the circumstances.
In the event the hand method is not conducive to safety or other problems arise, we use a specially designed blower to carefully clean your gutters of debris. And finally, we can use a high-powered gutter vacuum in situations where access by hand or blower is not possible. In either case, we will always work to provide the highest quality gutter cleaning. Let's take a closer look at a few of the most common gutter cleaning methods.
Cleaning Gutters By Hand
The oldest and sometimes most effective way to clean gutters is by hand. However, cleaning gutters by hand does require the use of a ladder, which is one of the key reasons we strongly suggest you leave gutter cleaning to the well-trained pros at Ned Stevens Gutter Cleaning of Long Island.
When we clean gutters, we utilize the tested, tried, and proven methods that involve manually removing the large debris and scooping all of the accumulated gunk from your gutter system. Using our hands for increased dexterity and maneuverability, we carefully work our way through your entire gutter system while moving the ladder around.
Then, we use a hose to flush out the smaller particles such as shingle grit. We'll run the water until we see clear water coming out of the downspout. In the event we notice the water is gently trickling, it could indicate a clog, which means we'll take further measures to clear the clog.
We can also use the blower method to clean gutters. Oftentimes, we'll use the blower method in conjunction with other methods. In doing so, we use the ladder to climb onto the roof. Once in a proper position with safe footing, we will work the blower along the edge of the roof using the blower to remove leaves and debris from the gutter.
Another common use of the blower gutter cleaning method is for hard-to-reach places or areas that may have lighter debris. In some instances, we will use an attachment to extend the leaf blower, which makes it easier to clean the gutters while standing on the ground. This may be a solution for making a quick second sweep of an area to ensure we didn't miss any debris. And if the blower method of gutter cleaning is used, the experts at Ned Stevens Gutter Cleaning of Long Island will always clean up the remaining gunk on the ground.
Can You Clean Downspouts with a Leaf Blower?
In short, the answer is yes. To clean downspouts with a leaf blower you will need special attachments. The leaf blower can be used by targeting the air flow through the top of the downspout and forcing everything out of the bottom. If there is a clog, a vac can sometimes be used. However, larger clogs cannot always be cleared through this method. Sometimes, the entire downspout must be removed and disassembled to access the blockage.
Power or Pressure Washing Gutters Clean
Substantial rainfall can cause leaves and debris to become wet and sticky, eventually decomposing into a muddy "muck". This can sometimes nullify the effectiveness of leaf blowers. In certain cases, we can use the highly-focused streams of water from a pressure washer to thoroughly clean your gutters. Our experienced technicians have the proper attachments to safely clean your gutters without damaging them.
In many instances, we use our power washers to clear clogged downspouts. We can also use pressure washers to clean the typical layer of debris and dirt that can build up over long periods of time.
Similar to a deep cleaning, we can use a pressure washer to blast away debris or blockages. Because of the likelihood of the debris ending up on windows, siding, and anything underneath your gutter system, we'll always take preventative measures and inform you if you should move furniture or vehicles prior to using this technique.
Gutter Vacs Should Be the Last Resort
Another common gutter cleaning method is the use of a gutter vacuum. At Ned Stevens Gutter Cleaning of Long Island, this is the method we probably use the least. In fact, it's a last-resort method we only use when the gutter system can't be safely accessed. Why? Because it's simply more time consuming and not always as effective as other methods.
What Should Happen During a Gutter Cleaning
During the cleaning, there are certain things that should take place —like cleaning of your gutters. However, this is only the beginning. In addition, your gutter system should be carefully inspected to ensure proper pitch and that all components and attachments are functioning properly.
Each component should be tested for security and to make sure there are no leaks. If a leak is detected, it's almost always better to repair the leak as quickly as possible to prevent it from growing into a more serious issue. Some leaks are not always repairable and may require the replacement of certain gutter components (ie. miters).
Contact Ned Stevens Gutter Cleaning of Long Island
At Ned Stevens Gutter Cleaning of Long Island, we are your resident gutter professionals, and we have all methods of gutter cleaning at our disposal. While the majority of the time we prefer to use the good-old manual hand method, we will use a mixture of different gutter cleaning methods to achieve the desired results. Best of all, you don't have to worry about ladders or which method we use because you'll enjoy a clean, free-flowing gutter system all the same, while staying safely on the ground level.
Contact Ned Stevens Gutter Cleaning of Long Island today for expert gutter cleaning and services.