6 Chillingly Important Winter Home Maintenance Tips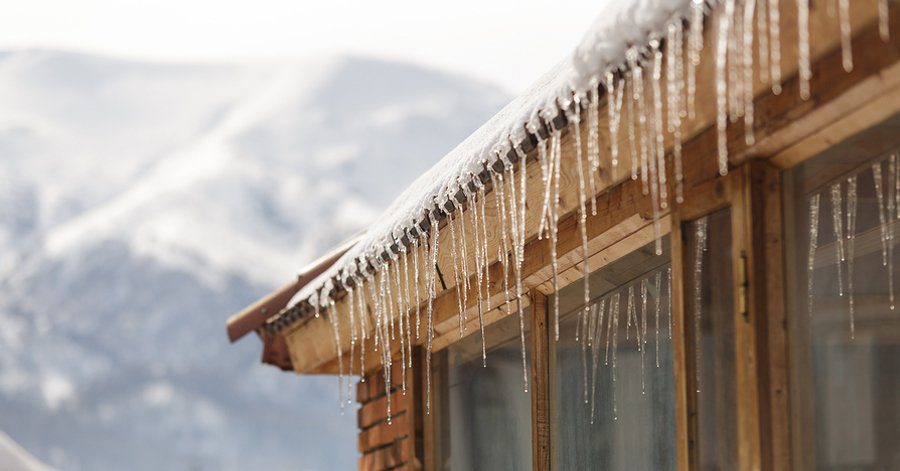 Stay cool this cold season and keep your home in peak condition with Ned Stevens Gutter Cleaning of Long Island's top winter maintenance tips. From heating system maintenance to roof checks, gutter cleaning, and repairs — we'll share the top winter maintenance tips to prevent chilling and expensive consequences. Continue reading to learn our six most chillingly-important winter home maintenance tips.
Winter Home Maintenance Tips Start with Gutter Cleaning
Leaves, twigs, acorns, and other debris can get lodged in the gutters, especially if your home is surrounded by trees with branches overhanging the roof. Cleaning the gutters will help to prevent rainwater from backing up and causing damage to the roof, wood trim, siding or worst of all, the interior of your home.
Water backlog in the gutters is notorious for causing ice dams and icicles to form damaging or breaking gutters in the process. However, when you have your gutters professionally cleaned, all of the debris trapped in the downspouts will be removed, so water can flow freely and away from the walls and foundation.
Repair Your Gutters
Gutters in disrepair are vulnerable to leaks and damage from possible ice damming. Ice dams occur when snow and ice harden instead of melting and flowing off the roof and into the gutters. During the gutter cleaning service, we'll always check for signs of damage to the gutter system and downspouts. Common signs of gutter damage, include:
In some cases, New gutter installation may be necessary. The gutter professionals at Ned Stevens can do an assessment and repair or install new gutters if required.
Installing Gutter Guards for Winter Home Maintenance
An extra step to reinforce your gutter system and keep gutters functional and clear from debris, snow, and ice is to install gutter guards. Gutter guards have innovative features that help them form a barrier to block debris from entering into the gutter trough and downspouts.
Different types of gutter protection optimize the flow of water through the system and away from the home and reduce the number of required yearly gutter maintenance visits. They also prevent water from back splashing and overflowing. Gutter guards can also help prevent the formation of ice dams in the winter.
Wash Clean Your Roof for the Winter
Moss, lichen, roof algae, and other microorganisms can eat through and rot, weaken, or damage the roof. Washing the roof is an extra precautionary step in preparing for winter. Snow and ice accumulate and freeze (ice dams) on the rooftop and may become too heavy for the roof to support. An already weak or damaged roof is more susceptible to failure due to excess weight from ice dams.
Protect Your Outdoor Valuables with Shrink Wrap
Snow, ice, and moisture are winter weather elements that simply can't be avoided when living on Long Island. In addition to damaging roofs or gutters or freezing and bursting pipes, the weather can also damage, warp, or corrode valuable outdoor items such as lawn or patio furniture, outdoor kitchens, fire pits and even the kids' swingset.
Shrink wrapping these and other items such as outdoor bars, gazebos, above-ground pools, umbrellas and ornaments is the best way to protect and preserve these valuables. Shrink wrap offers a range of key benefits and is made from high-strength, virgin resin polyethylene (plastic) with UV inhibitors, which makes it weatherproof and waterproof.
Get Rid of Ice Dams
Harsh winter weather can cause snow and ice to accumulate quickly causing a condition called ice damming. Ice dams are blocks of ice formed on the roof slope - typically starting where the roof meets the gutter. When gutters are clogged with debris or backed up with water, the snow continues to refreeze since there is no escape route via the gutters.
Sometimes, frigid water from melted snow and ice will run over the gutter lips and freeze forming icicles. In addition to damaging the roof, ice dams and icicles can destroy the gutters, eaves, walls, and the ceiling and introduce moisture or mold into your home. Bear in mind that ice dams can create slippery hazards and even break windows and surrounding structures. Removal may be safely done by the ice dam removal experts at Ned Stevens Gutter Cleaning of Long Island.
Additional Key Winter Home Maintenance Tips
In addition to the previously mentioned winter home maintenance tips, you can ensure your home is ready for whatever winter brings by:
Contact Ned Stevens Gutter Cleaning of Long Island
At Ned Stevens Gutter Cleaning of Long Island, it's never too late or early to prepare your home for winter. We offer a vast range of services and solutions to protect your home, give you an added peace of mind — and most importantly — keep your feet on the ground.
Contact Ned Stevens Gutter Cleaning of Long Island for winter home maintenance solutions.