Ice Dams Got You Spooked?…Gutter Guards in the Winter Can Help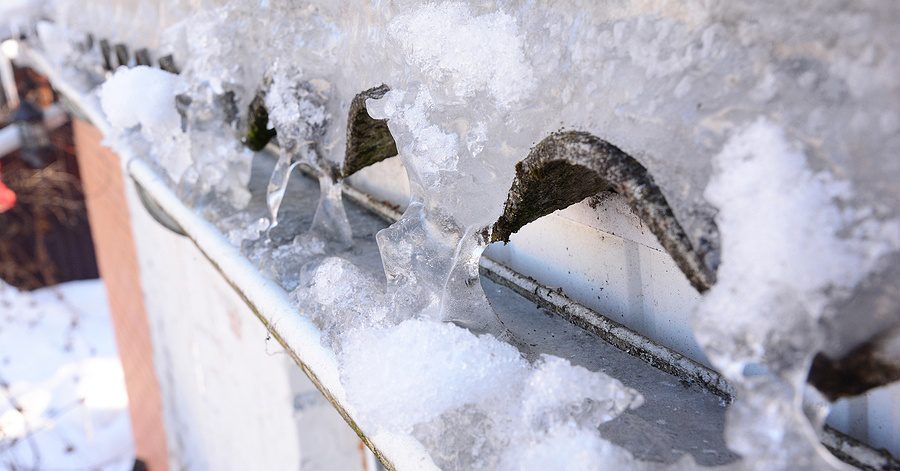 While ice dams can be beautiful and picturesque to the first timer or occasional visitor to the Long Island area, we know as residents that they can be dangerous and costly — but gutter guards in the winter can help.
At Ned Stevens Gutter Cleaning of Long Island, we've been helping homeowners since 1965 take care of their gutters with routine gutter cleaning service plans, gutter installations, gutter repairs, ice dam removal, and more. And if you notice ice dams on your home, it's imperative to call us for professional ice dam removal. In many cases, we can immediately address the ice dams by breaking up and removing the ice to allow water to freely flow off your roof and away from your home.
Then we will provide you with options for more permanent, long-term solutions. One of those solutions can be the installation of gutter guards in the winter. Let's take a closer look at why ice dams deserve your immediate attention and why gutter guards in the winter can help.
Why Is Ice Removal Important?
Although a home adorned with shimmering white snow is a beautiful sight to behold, too much of it on the roof can become a serious problem. Modern homes are designed to withstand heavy amounts of snow, but a weakened foundation over time can still lead to various damage including a possible roof collapse.
Simultaneously, a build-up of snow and ice on your roof can lead to ice dams and icicles. Gutter related Ice dams form when water turns into ice inside your gutters, causing it to accumulate in the gutter while more melting snow and ice backs up behind the fascia boards and eaves. Poor ventilation in the attic can further escalate the problem, as melted ice from the top of your house drips down and freezes again before coming off the roof.
Not only can this abundance of water become ice dams off the sides of your roof, but they can also lead to other problems, such as:
Gutter Guards In Winter Months Make A Difference
To put it simply, gutter guards help maintain gutters clog-free. Not only do they help prevent your gutters from being damaged by the weight of ice, but they also prevent large debris and some small debris from entering the gutters. Winter months are arguably the most important time of the year to have properly functioning gutters if you live in the northeast United States, so having gutter guards can really help.
Of course, not all gutter guards are equally efficient. As a result, it's important you conduct sufficient research and choose a gutter guard system that actually works. It's also important to remember that no matter which type of gutter guard you choose, no brand can guarantee a lifetime of clutter-free gutters (although some companies do try with slick, convincing marketing campaigns). Eventually, there will come a time where enough small debris will accumulate and start causing problems; it's only a matter of time. What you can guarantee however is deciding on gutter guards that are both effective and efficient.
How To Choose Gutter Guards in Winter?
When choosing the best gutter guards in Winter or any other month, it's important you know what to look for. Fortunately, you're not alone! The team at Ned Stevens Gutter Cleaning of Long Island offers decades of experience helping homeowners find the best gutter guard and gutter protection.
Avoid Gutter Guards That Are...
One of our top tips include avoiding flimsy screens (sold in the Big Box stores), gutter guards with wide grooves, and gutter guards that require you to lift the shingles of your roof in order to install them; these are not only ineffective, but they can cause other problems too.
What Are the Best Gutter Guards?
If you are looking for a mid-priced gutter guard that provides high-quality filtration, we recommend MicroGuard Gutter Protection. MicroGuard screens feature angled micro-perforations designed to efficiently redirect away the larger debris and allow water to flow into your gutters and away from your home.
Their raised, uniquely steep grooves prevent water from splashing and traveling beneath the shingles of your home. Available in three different configurations and designed to flow with the roof design of a home, these gutter guards are an excellent choice for homeowners who seek quality at a fair price.
Make Sure to Schedule Professional Gutter Cleaning
No matter what your decision ends up being, don't forget to have your gutters and gutter guards cleaned often to prevent accidents or damage to them from happening; money spent on cleaning them regularly will save you more money down the road.
And cleaning your gutters is one DIY job you should avoid. Instead of attempting to climb up on a ladder and become a roof-fall statistic, it's best to reach out to the team at Ned Stevens Gutter Cleaning of Long Island for regular gutter cleaning. Our team of highly-skilled and professional gutter cleaners are trained to use the best, safest, and most effective gutter cleaning methods.
Can't Remember When to Schedule Gutter Cleaning? Get a Plan!
We get it — you have a lot on your plate, and remembering to schedule gutter cleaning is probably low on your list. However, all it takes is one catastrophic event or roof damage for you to understand how important it is to have regularly-scheduled gutter cleaning.
Fortunately, the team at Ned Stevens Gutter Cleaning has simplified the process by offering a robust suite of Gutter Cleaning Service Plans. You choose the plan that works best for you and your budget, and we'll offer helpful reminders and solutions to keep you on track!
Learn more about our affordable and helpful gutter cleaning service plans.
Contact Ned Stevens Gutter Cleaning of Long Island Today!
Tired of the snow yet? Yes, it has its aesthetic upsides, but the dangerously slippery roads, the need for shoveling snow out of the driveway and dealing with pesky ice dams can get old rather quickly. While we may not be able to help you with the slippery roads and driveway filled with snow, we most certainly can lend you a hand with ice dams and icicles.
Contact Ned Stevens Gutter Cleaning of Long Island to learn more about gutter guards, gutter cleaning, or any other service we offer.