Seriously…Are Gutter Guards Worth It?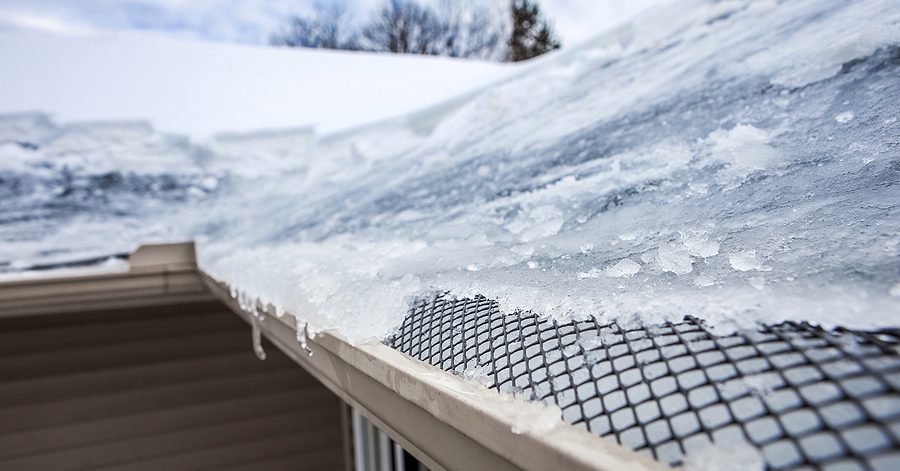 While homeowners often overlook them, gutters and the entire gutter system play a vital role in protecting your home from destructive elements. Simply put, your rain gutters are tasked with carrying rainwater and melting snow water away from vulnerable roof shingles and materials as well as the home's foundation.
Although gutters and downspout systems are important to protecting your home, they also present unique maintenance challenges for homeowners. To put it simply, if you don't have regular gutter cleaning, it doesn't take much for leaves and other debris to clog them up.
Fortunately, you have multiple gutter cleaning options. But if you're looking to protect the gutter system that protects your home and want less gutter cleaning, gutter guards or gutter screens can help.
Also known as gutter covers, gutter guards are engineered to prevent leaves, pine needles, and other debris from ever entering the gutter system. Even so, one of the most frequently asked questions we receive is "Are gutter guards worth it?"
Simply put, yes! Whether you choose gutter guards, gutter screens, gutter covers, or any other gutter guard system, they are all uniquely designed to reduce the amount of gutter maintenance.
However, some gutter guard systems and gutter screens are more effective than others. Let's take a closer look at why gutter guards and/or gutter screens are worth it!
Gutter Guards & Gutter Screens Can Save You Time and Money
Having gutter guards or gutter screens installed can lead to almost immediate time and money savings. And the reasons are obvious. Gutter guards and gutter screens work to block debris and leaves from ever entering and clogging up the gutter system.
Failure to have gutter guards means you will likely need to have your gutters cleaned more often.
Gutter Guards Make Gutter Cleaning Easier
At the same time, gutter guards make cleaning gutters regularly much easier. Instead of having to dig into clogged gutters to remove handfuls of debris, twigs, leaves, and seeds, gutter guards make gutter cleaning exponentially easier.
Simply put, gutter guards are designed to reduce the number of gutter cleanings required and make each one easier.
Eek! A Gutter Guard Can Help Prevent Insect and Mice Infestation
A properly functioning and properly maintained gutter guard system can help stop insects and vermin from making their home in your gutters. On one hand, the gutter guard will reduce the amount of stagnant, sitting water in the gutters.
With less standing water, spiders, mosquitos, mice, birds, squirrels, and bats will find your abode less appealing. At the same time, a gutter guard acts as a physical, impenetrable barrier to vermin, birds, and possum.
Without a gutter guard system, these uninvited guests will be attracted to your gutters by the aroma of rotting organic matter. Once in your gutters, these pests are likely to navigate behind the fascia boards and ultimately into your home.
Gutter Guards Improve Fire Protection
Gutters loaded with leaves, pine needles, sticks, and other debris can pose a unique fire safety hazard. Once this debris dries, all it takes is a flying ember to land and start a blaze at your home.
Those tiny embers can quickly ignite into a fire and quickly spread. High-quality gutter guards and leaf guards, however, protect your home by acting as a physical barrier between debris and lighted embers.
Leaf Guards Can Help Prevent Corrosion and Rust
Another key benefit of gutter guards is they can help prevent premature rust and corrosion of your gutter system. If moist leaves are allowed to sit in your gutter protection system, it can increase the chance of rust or corrosion forming in your gutters.
As such, installing gutter guards can help bolster the life of your gutters with additional corrosion and rust protection.
A Gutter Guard Installation Can Help Stop Gutter Blockages
When your gutters overflow during periods of heavy rain, it's likely due to them being clogged. Overflowing gutters are dangerous because this can allow water damage to your foundation or cause water to enter your home.
At the same time, overflowing gutters can lead to dark stains on the outside of your home. Gutter guards are designed to prevent gutter blockages and promote the free flow of water away from your foundation and structure.
Gutter Guards Help Prevent Ice Dams
As we have previously mentioned, gutter guards help keep rain gutters clog-free and reduce the number of required gutter cleanings. And they also work to reduce the formation of ice dams in the winter months.
What Are Ice Dams?
Ice dams happen when ice forms in the rain gutters or on roofs. When water is allowed to pool in the gutter system and is met with other meltwater, it will continue to refreeze. Unfortunately, this ice will have no place left to go than underneath your roof shingles.
Ice dams are the result of temperature differences across the surface of your roof. Because warm air and hot air tend to rise, your roof's temperature is often highest near its peak.
And this causes any snow that has accumulated on the top of the roof to melt faster than it would elsewhere on your roof. When that happens, it can lead to several different types of property damage.
At the same time, ice dams can force your roof to carry far more weight than it was ever designed to handle — often with catastrophic results.
Gutter Guards Work to Reduce Gutter Cleaning and Protect from Ice Dams
When you have gutter guards installed, you will promote the free flow of water through the gutter system and away from your home. By reducing the presence of debris and gutter clogs, ice dams are less likely to form.
Winter months are arguably the most important time of the year to have properly functioning gutters if you live in the northeast United States. And having gutter guards installed can help.
Are All Gutter Guards Created Equally?
Of course, not all gutter guards are equally efficient. As a result, it's important you conduct sufficient research and choose a gutter guard system that actually works.
It's also important to remember that no matter which type of gutter guard you choose, no brand can guarantee a lifetime of clutter-free gutters (although some companies do try with slick, convincing marketing campaigns).
Eventually, there will come a time when enough small debris will accumulate and start causing problems; it's only a matter of time. What you can guarantee however is deciding on gutter guards that are both effective and efficient.
MicroGuard Gutter Guards Are the Best
Manufactured stateside in the U.S., the MicroGuard micro mesh gutter guard system employs the latest in micro-filtration technology. As the premier gutter guard manufacturers, Englert, Inc's micro-mesh gutter guards can help reduce the number of gutter cleanings and deliver outstanding protection for your rain gutters and home.
MicroGuard features uniquely angled micro-perforations on the screen. This empowers the gutter guards to redirect larger debris while allowing rainwater to flow into your gutter system, through the downspouts, and away from your home.
Contact Ned Stevens Gutter Cleaning of Long for Rain Gutter Guards
If you're looking to reduce the number of times you are required to clean your gutters, having a gutter guard system installed can help. And at Ned Stevens Gutter Cleaning of Long island, we offer and install gutter guards that are proven to deliver the desired results.
Ned Stevens Gutter Cleaning of Long Island has been delivering cutting-edge solutions to homeowners throughout the Suffolk County and Nassau County area. We are insured, licensed, and have gone to great lengths to test and validate the effectiveness of various gutter guards. Ready to learn more?
Contact Ned Stevens Gutter Cleaning of Long Island today!