Beware! Don't Fall Victim to Gutter Cleaning Dangers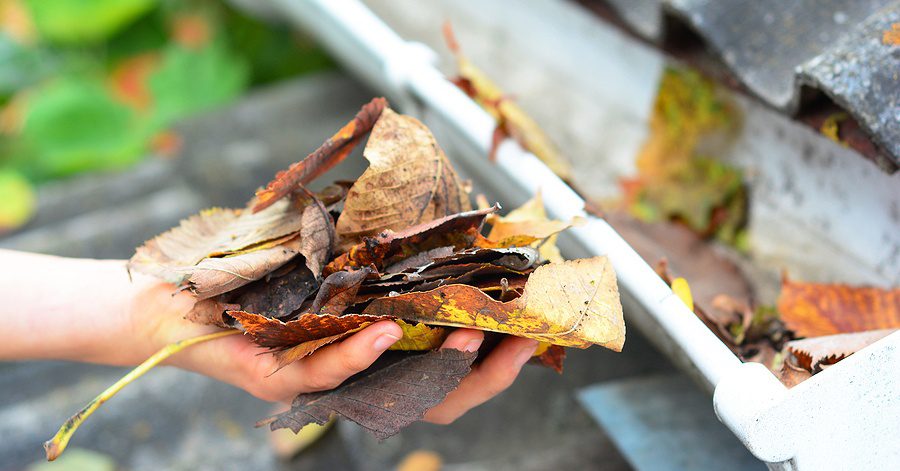 Your rain gutters are an important part of your home's protection system. When properly working and cleaned, your gutters offer year-round protection from heavy rain.
However, through the rainy season, sticks, leaves, insects, debris, dirt, and other debris will accumulate in your gutter system and downspouts. Once this occurs, the natural flow of water can be inhibited, causing a build-up in your rain gutters.
This leads to an overflow of water, or even worse - a backup, which can cause roof damage, foundation cracking, soil erosion, siding damage, landscape erosion, and much more. Fortunately, the best way to prevent this from happening involves cleaning gutters.
Sounds easy enough right? How difficult can cleaning gutters really be? Besides, you've probably painted a room before, and you may even change your own oil.
So, cleaning gutters shouldn't be too bad, right? Not so fast! Before you attempt to climb up a ladder, it's imperative to understand that deciding to clean your gutters is an extremely dangerous ordeal.
In fact, performing a DIY cleaning of your aluminum gutters or any other type is best left to the pros. Let's take a closer look at the dangers of cleaning rain gutters and some of the most common reasons why something goes wrong.
Is Gutter Cleaning Dangerous?
First and foremost, attempting to perform DIY gutter cleaning of rain gutters is extremely dangerous and can easily result in emergency room treatment or visit. Much of the danger associated with gutter cleaning can be attributed to climbing ladders and the ensuing ladder accidents. But that's not all!
In addition to suffering physical damage to your person, attempting to clean your gutters yourself could also result in house damage. However, you don't have to take our word for it.
Ladder Falls Are a Top Cause of Hospital Visits
Every year in the United States, there are more than 500,000 ladder-related injuries and accidents. Even worse, around 300 people die every year from ladder-related incidents, such as not having the ladder steady and falling off ladders.
In total, ladders and ladder-related incidents account for a whopping $24 billion every year due to liability, legal, medical, work loss, as well as pain and suffering expenses. The U.S Bureau of Labor Statistics reports that around 1/3 of falls are from the roof and/or ladders.
According to an analysis of three different surveillance systems back in 2011, many who tend to fall are of increasing age, male, and homeowners.
DIYers Are at Higher Risk
While it's easy to assume the harrowing injuries caused by ladders can be attributed to those working on a roof, this is not the case. Many homeowners / DIYers are the victims. According to PubMed.gov, a whopping 97.3% of ladder falls were non-occupational. In other words, these falls were by the homeowner looking to perform DIY projects and repairs around their house.
Unstable Ladders Are an Inherent Danger
While most people have a ladder and tools, only a small percentage are educated and informed on how to use them when dealing with heights. If not properly placed on level ground or uneven ground, the ladder can easily become wobbly at the wrong time.
If the ladder leans too far to one side, it can quickly lead to a nasty accident or fall from the roof. Instead of attempting to clean your gutters yourself or climb on the roof, it's best to leave it to the pros who are trained, experienced, and skilled at cleaning gutters.
Being Ill-Equipped Can Amplify the Dangers Involved with Cleaning Gutters
Would you try to change the oil on your car (if you change the oil on your car) with a butter knife? We would hope not!
In either case, some unfortunate homeowners may attempt to clean gutters without the proper tools. Simply put, having the right tools on hand makes all the difference when cleaning gutters.
It's imperative to have proper eyewear, wear gloves, have the right shoes for the roof, and have the necessary experience. Failing to have the right tools or attempting to clean gutters with bare hands can pose a real risk.
For instance, roofs are naturally slippery, especially during the rainy season, because of elements like rain water, algae and mold spores. These factors can make the roof extremely slippery, which can lead to falls from roofs.
And falls from a house roof are almost just as prevalent as falls from ladders. The Center for Construction Research and Training Data Center discovered that roof falls represented almost 1/3 of all construction-related falls.
If highly trained roofing contractors and construction workers with the right equipment are prevalent to fall victim to the risks of the job, an untrained homeowner is exponentially more likely to succumb to the common dangers of the job.
Electrocutions from Electrical Wiring Are a Major Hazard
Aluminum ladders and power lines do not mix. Power lines and loose wires tend to run concurrent to houses and can be juxtapositioned to home safety.
In fact, making contact with electrical wiring on a wet roof with steel or aluminum gutters loaded with wet debris is the perfect equation for a safety incident.
Metal + Water = Electrocution
Here's why: metals and water are excellent conductors of electricity. All it takes is one wrong step, and you could be electrocuted before falling. This scenario is the perfect storm for a potential life-threatening trip to the emergency room.
As a result, it's best for homeowners to avoid attempting to clean gutters, especially when the risk of electrocution lingers near. Simply put, the job of gutter cleaning is best left to the professional with the right equipment and expertise for the job.
Dizziness Issues & Diseases Can Cause a Major Problem
Even when a homeowner has the right equipment for the job and has followed all safety protocols associated with using the ladder, the risk of falling still exists. Many homeowners attempt to clean their rain gutters, climb the ladder, and realize they are negatively affected by heights.
This can cause them to lose their balance while high off the ground. Another serious hazard associated with cleaning gutters is the potential for diseases.
Humid, dark spaces that are filled with branches, leaves, and other organic matter will naturally foster the growth of fungi and mold. At the same time, this environment will attract rodents, birds, and other pests.
If your rain gutters are infested, a DIYer who doesn't use gloves could be exposed to an unhealthy environment by simply picking up the debris.
Contact the Professional Gutter Cleaning Team at Ned Stevens Gutter Cleaning of Long Island
In the end, it's best to leave climbing on ladders, cleaning gutters, and cleaning roofing to the professional team at Ned Stevens Gutter Cleaning of Long Island. When you do, you'll never have to worry about making unwelcomed contact with the ground, a live wire, or a rodent.
We offer highly-skilled gutter cleaning professionals who are trained to use the highest level of safety when dealing with roofing. Most importantly, we stand behind everything we do with excellent service.
Contact Ned Stevens Gutter Cleaning of Long Island today for a free quote.