Ned Stevens Partners with Habitat for Humanity to Donate Gutter Install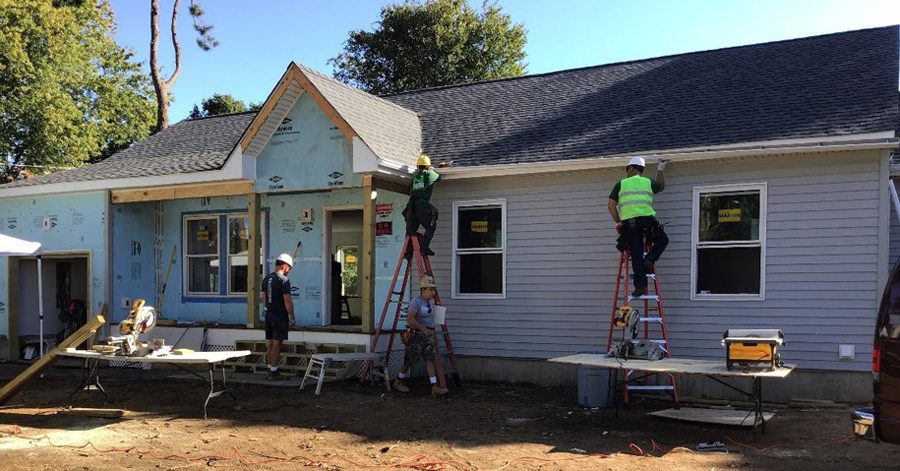 On September 24, 2019, Ned Stevens Gutter Cleaning of Long Island partnered with Habitat for Humanity to make one family's dream of homeownership come true. The Ned Stevens team came out to get involved and help provide a critical service to a new Habitat home built right here in Suffolk County.
We are proud to have partnered with Habitat for Humanity and donated a full home gutter system installation that can — with proper cleaning and maintenance — help protect the home for several years to come. Continue reading to learn more about the partnership between Ned Stevens Gutter Cleaning of Long Island and Habitat for Humanity.
New Habitat Home, New Ned Stevens Gutters
At Ned Stevens Gutter Cleaning of Long Island, we know all too well the importance of having a reliable and dependable gutter installation on a home. Because the home is the largest purchase most of us will make in our lifetime, it's vital to protect the investment. And new gutters are simply a must have on any home, which is why we partnered with Habitat for Humanity to donate a full new gutter installation for the new homeowners.
The gutters are tasked with the very important role of diverting water away from the property to prevent damage. Suffolk County's heavy rains can wreak havoc on critical parts of the structure, especially the foundation, doors, windows, and siding. If the home doesn't have gutters, the homeowner can end up with a gargantuan list of damages and hefty repair bill.
For instance, water can pool around the foundation of the home and make its way into areas where no homeowner wants water to be. In the end, the gutters on the home work to preserve the foundation, protect the landscape, prevent erosion, and avoid basement flooding. In addition, gutters work to prevent staining on the outside of the home, prevent mildew and mold growth, and mitigate paint damage.
Making a Difference – One Gutter Installation at a Time
When we partnered with Habitat to donate a new gutter installation, it included the full Ned Stevens Gutter Cleaning of Long Island service. We only use the best materials and the most state-of-the-art forming tools when performing gutter installations. We never use cheap or inferior products and always help our customers choose the best rain gutters to protect the home through all seasons.
During the installation, we worked closely with Habitat and the homeowner to provide them with the full experience. We offered guidance and helped the homeowner select the most appropriate gutter downspouts, the type of gutter system, gutter material, and color. We wanted to make sure the gutter system accented the architectural design of the home without standing out.
How Can Homeowners Maintain the Gutter System?
Our team of installers educate homeowners on the importance of having regularly scheduled gutter cleanings to make sure the system continues to perform as designed. Because most people struggle to remember to schedule their cleanings, we offer multiple cost-saving gutter cleaning service contracts that can be customized to the homeowner's specific needs. To help reduce the number of required cleanings, many homeowners choose to install gutter guards or gutter protection, which helps prevent leaves, pine needles, and debris from ever entering the gutter system.
What Is Habitat for Humanity of Suffolk County?
Habitat for Humanity of Suffolk County is a local branch of a global nonprofit housing organization. There are several Habitat for Humanity local organizations throughout the U.S. and I over 70 countries around the world. Regardless of where the local chapter is located, the mission is always the same: help people have affordable housing.
Habitat for Humanity works to build stability, strength, and self reliance in partnerships for families and people in need of reliable and affordable housing. What makes Habitat unique is that homeowners actually roll up their sleeves to either build or help improve on the place they'll call home. In addition to their own sweat equity, homeowners receive a vital financial education to prepare them for successful homeownership. In return, these homeowners are able to pay an affordable mortgage.
Since 1976, Habitat for Humanity has helped a staggering 22 million people build, rehabilitate or preserve housing. As the largest not-for-profit builder on the globe, Habitat for Humanity successfully helped over 8.7 million people in the world last year alone in 2018.
Contact Ned Stevens Gutter Cleaning of Long Island
At Ned Stevens Gutter Cleaning of Long Island, we're proud and honored to have partnered with such an esteemed organization. We're even prouder to make a direct impact in the life of a new Habitat homeowner as well as the broader community.
Since 1998, Ned Stevens Gutter Cleaning has been providing gutter cleaning, power washing, shrink wrapping, commercial window cleaning, and a range of other services to homeowners and businesses throughout Long Island. Whether we're installing a donated gutter system on a Habitat for Humanity home or repairing a system on your home, we will always strive to meet your needs and exceed your expectations.
We encourage you to contact Ned Stevens Gutter Cleaning of Long Island today and support local businesses who support the local community.