Wait! Make Sure to Avoid These Underground Gutter Drainage Problems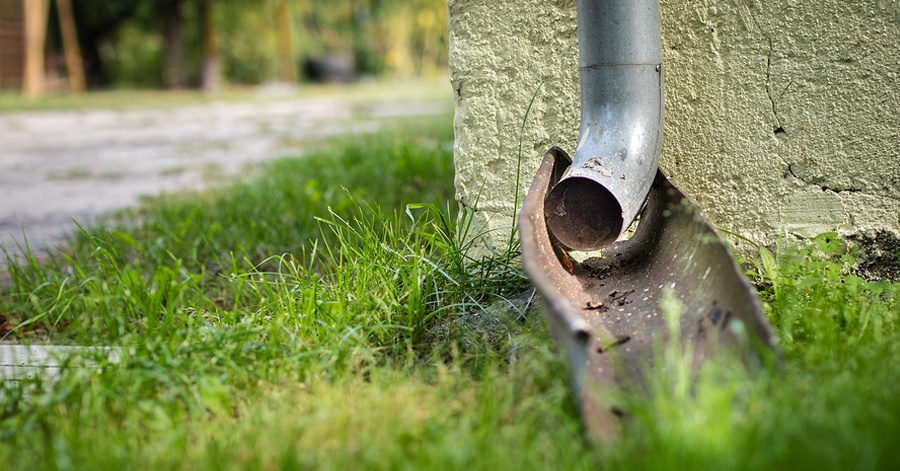 Most homeowners are fully aware that it's vital to move water from your gutters away from your home and foundation to avoid basement seepage. In many instances, a gutter system customized to the parameters of your home will effectively help you achieve this goal. However, if your landscape doesn't allow for the natural channeling of discharged water away from your home, you may have to consider other alternatives, such as underground gutter drainage options.
Underground drains are designed to move discharged water from your gutters far enough away from your home to avoid costly seepage problems. Underground drains achieve this goal without the unsightly appearance of a plastic pipe navigating and snaking its way through your yard. When installed properly, underground drains have solved countless problems for homeowners without affecting the aesthetic appearance of their home.
Yet, not all underground drains are installed or created equally. Unfortunately, when inexperience meets subpar craftsmanship and less-than-reliable materials; it's the perfect storm for a myriad of underground drainage problems. Let's take a look at some of the most common underground gutter drainage problems.
Not Having Professional Underground Gutter Drainage Installed
Although underground drainage installation isn't always feasible, it remains the most ideal long-term approach to channeling water away from your home's foundation. The underground gutter drainage is especially helpful in situations when homes do not have the proper slope away from the home. A professional drain installer can install the underground drain in one of two ways:
Simply put, this isn't a DIY job or a task for the inexperienced installer because there are a vast number of considerations that must be made. A few of the most common considerations your installer should discuss with you include any installed sprinkler systems, underground utilities, and any brick or cement paver walkways. Of course, every underground or dig job MUST start with a call to 311 for a markout of underground utilities.
All of these factors help determine how the trench will be dug and the necessary depth of the trench. With all things considered, many underground gutter drainage problems originate with a less-than-experienced underground gutter installer.
Underground Gutter Drainage Problems Caused by Short Extensions
To be effective, the underground downspout will need to carry water a minimum of 10 feet away from the foundation to make it past the zone of failure. The zone of failure can be characterized as the area that was backfilled when the home was constructed. An inexperienced or less than reputable gutter installer often only installs a few feet away from the home. While this may result in lower installation prices today, it can result in a flooded basement, cracked foundation and thousands of dollars of damage tomorrow.
The Wrong Materials Cause Underground Gutter Drainage Problems
At Ned Stevens Gutter Cleaning of Long Island, we always use the best and most reliable materials in the development of underground drains. In most instances, we use solid PVC pipe because it's the most durable and will effectively carry the water to its end point unobstructed.
However, an inexperienced underground gutter installer may attempt to use various types of corrugated plastic pipes. While corrugated plastic pipes may be appropriate for interior drainage, or landscaping drainage, it's not suitable for underground gutter drains. The use of corrugated plastic pipes can lead to a myriad of underground gutter drainage problems because it is extremely thin, is easily pierced, and easily allows tree and shrub roots to grow into the pipe.
The Wrong Pitch can Cause Underground Gutter Drain to be Clogged
Similar to gutters on your roof, underground drains should be properly pitched to achieve the optimum drainage. Inexperienced gutter installers or landscapers regularly get the pitch wrong. We've seen several instances where landscapers and inexperienced underground gutter installers install drainage pipe in a "U" shape.
This creates more underground gutter drainage problems than it actually solves by causing water to travel back up into the downspout and become trapped there — instead of out. To make matters worse, whenever freezing temperatures come into play, it can prevent all flow and do serious damage to your downspouts, siding, walkways and much more.
Underground Gutter Drainage Problems Caused by Direct Connections
As an experienced team of gutter installation and maintenance professionals, we know the best way to install your underground drains is with a proven and effective debris filter - meaning, gutter protection. This simple but critical component will work to keep your gutters clean and prevent your underground drains from being clogged with debris.
However, landscapers and inexperienced gutter professionals often affix the downspouts directly into the ground. This results in limited access between the drains and the gutter. More importantly, it results in underground clogs that have to be dug up to be remedied, a very, very expensive situation.
Prevent Underground Gutter Drainage Problems & Contact Ned Stevens Gutter Cleaning of Long Island
When it comes to protecting your home, trust the decades of experience at Ned Stevens Gutter Cleaning of Long Island. We're proud to be the best gutter installation and gutter maintenance company in the area. We provide a vast range of services designed to keep your home in remarkable condition. Give us a call 1 800 843-9442.