How Can a Dry Well Solve My Drainage Problems?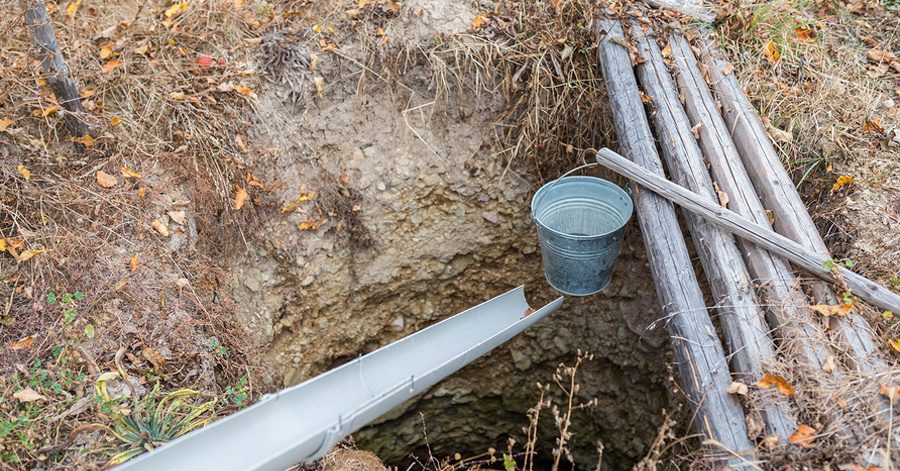 If your neighbor complains about rivers of storm water cutting a ditch from your yard to destroy their flower bed, or, if you see pools of water on your property after rain, it may be time to look into a dry well system for your drainage problem. Uncontrolled storm water from your gutter drainage can lead to erosion as well as disastrous localized flooding, especially for basements.
In many instances, this gutter drainage water pools in troublesome problem areas that are either the lowest spot on your property. If these conditions explain your yard, you may be an ideal candidate for a dry well system for gutter drainage.
Installing a dry well for gutter drainage and providing solutions for dry well drainage problems are two of the many ways Ned Stevens Gutter Cleaning of Long Island can help protect your property. Continue reading to learn more about dry well systems and how Ned Stevens can help provide solutions for dry well drainage problems.
How Can a Dry Well Solve Drainage Problems?
A dry well is essentially an underground storage system designed to store water before it filtrates into the soil. Instead of having massive puddles in your yard and potentially spilling into your neighbor's yard, a dry well solution can solve for troublesome drainage problems.
Picture the puddle where water accumulates in the lowest part of your yard. Eventually, this puddle will dry up and filter into the ground. Dry well systems are designed to move the water that previously puddled on your lawn into a below-ground, installed prefab concrete or ABS plastic seepage tank.
Dry wells solve drainage problems by channeling runoff water from your gutters and keeping all of your yard area above ground dry. You can say goodbye to waiting for massive puddles to dry out, soggy lawns, and even upset neighbors. Dry well systems solve drainage problems by holding the excess water below ground — instead of above.
Is a Dry Well Right for Your Home?
In some towns, you may be required to install more than one dry well system to solve drainage problems and reduce the impact placed on the town's storm drains. You may be a good candidate for a dry well system if your yard has spots where water drains away quickly. However, if you have slower drainage or have property on heavy clay soil, you may have to dig deeper or develop an alternative solution. If dry wells are not mandated in your area, the experts at Ned Stevens Gutter Cleaning of Long Island can help you understand whether a dry well would help solve your drainage problems.
Solve Dry Well Drainage Problems with Regular Gutter Cleaning & Maintenance
Most dry wells, when properly installed, will function for several years without any problems. Similar to gutters cleaning and gutter repair, your dry well can become clogged with debris over time. When this happens, it can slow or completely hinder the drainage, which can lead to wet areas pooling over the dry well, backups, and a long list of other problems. In many instances, sediment and debris starts to clog the pit walls and minimize the system's ability to disperse water.
Fortunately, you can take huge steps to prevent dry well drainage problems and extend the useful life of your system by scheduling regular gutter maintenance and cleaning. With regular gutter cleaning and maintenance, you can eliminate debris and grime early on — well before it ever reaches your underground seepage tank. If you are utilizing your dry well for gray water in addition to gutter drainage, installing a filter on the drain line and regularly cleaning it to remove soap scum and lint will help prevent clogs.
Because of this, it's important to have your dry well system inspected by a professional at least once per season. It's also a great idea for you to visually inspect your dry well after any storm where you have more than one inch of rainfall. It shouldn't take more than three days for a properly installed dry well to drain. In most instances, the best remedy for a clogged dry well is simply cleaning it out however, sometimes further work may be required.
Contact Ned Stevens of Long Island for Dry Well for Drainage Problems
Since 1965, Ned Stevens Gutter Cleaning has been providing world-class solutions for our customers. We pride ourselves in delivering solutions that make a difference and solve drainage problems. As licensed, reliable, and insured contractors, we will work to meet your needs and exceed your expectations.
Contact Ned Stevens Gutter Cleaning of Long Island today to learn whether a dry well can solve your drainage problems. 1 800 843-9442.