A Guide to Gutter Cleaning for Different Types of Roofs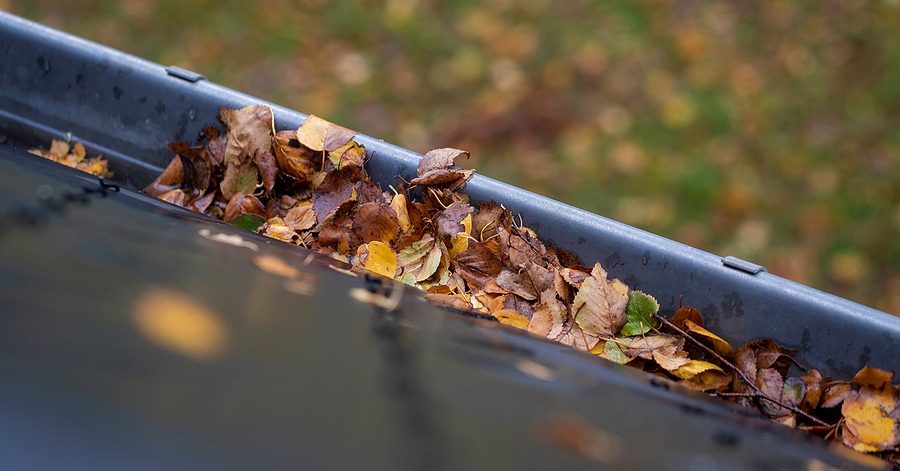 All homes that have gutters need them cleaned routinely, typically on a seasonal basis two to four times each year. Since different types of roofing can impact the gutter cleaning process, when scheduling with your gutter cleaning professional, be sure to inform them of the type of roof you have.
In this article we will share what homeowners need to know about gutter cleaning for different types of roofs, whether they have an asphalt or cedar shingle roof, tile roof, metal roof, or a flat roof.
Gutter Cleaning for Asphalt Shingles
Asphalt shingles are the most common type of residential rooftop shingles. Cleaning gutters for shingled roofs requires basic seasonal cleaning with a special eye to monitoring the condition of the shingles in the event there is any weather or environmentally-caused damage.
One of the most common types of damage seen in asphalt shingles occurs in the winter when ice dams are likely to form. As snow and debris accumulates in the gutters, melting snow from the roof drops down and refreezes just above the gutters creating large amounts of ice which can re-melt and seep under the shingles, cracking them or popping them up. Winter gutter cleaning is necessary when ice dams form to ensure that extensive roof damage does not occur.
Along with regular seasons gutter cleaning, washing your asphalt roof will remove any stains that occur over time. This will keep your roof looking fresh and clean even as the roof ages.
Gutter Cleaning for Cedar Shingles
Cedar shingles provide a beautiful aesthetic to a home as long as they, and the gutters, are properly maintained over time. As leaves and other debris accumulate in your gutters, anything touching up against cedar shingles may cause stains or even rot.
For cedar shingles homes, regular gutter cleaning is necessary to maintain the look and function of the shingles, which is typically about thirty years. Roof cleaning and washing will keep the shingles looking new rather than deteriorating into a lifeless grey.
When cleaning your gutters and scooping out debris, be very careful that you do not damage your cedar shingles. Since wood can crack over time, an accidental knock against your shingles may cause unwanted damage.
Gutter Cleaning for Metal Roofs
According to the Metal Roofing Alliance, metal roofs or standing seam metal roofs, are most popular in the States of New York, Florida, Pennsylvania, California, and North Carolina. Providing greater longevity than shingle roofing (upwards of 50 years!), metal roofs also offer superior protection against wind, rain, hail, hurricanes, and wildfires.
When it comes to gutter cleaning for metal roofing, the same seasonal schedule applies as with any other roofing type. The difference, though, when cleaning gutters for a metal roof, is to keep in mind that the gutters may be attached a bit lower than with other types of roofing enabling more leaves and other debris to accumulate. Accumulation that rests up against the roof can create moist conditions that cause rust to form. If you see accumulations reaching the edge of your roof, you are definitely in need of gutter cleaning!
Along with seasonal gutter cleaning, metal roofs benefit from annual roof washing to ensure that no environmental stains or oxidation caused by molds or algae are able to grow.
When washing your metal roof or cleaning out the gutters, be very careful as the pitch of a metal roof might be a bit steeper than other types of roofing. If you are going to walk on the roof, be sure to wear shoes that enable a strong grip so that you don't slip.
Gutter Cleaning for Tile Roofs
Tile roofing is gorgeous but it comes with its own challenges when keeping the gutters clean. Due to the curved shape of each roof tile and how they are laid on the roof, debris has a greater chance of accumulating on the roof and all the way down to the gutters.
For homes that are not situated with a large number of trees expressing leaves, seed pods, or needles, maintaining the roof and gutters will not be as big a chore as it is for those homes circled by several trees.
Gutter cleaning and debris removal for homes with a tile roof requires the following equipment: a steady ladder with a stabilizer, personal protection in the form of gloves and goggles, and a specialized gutter scoop to remove debris. In some cases, the tile roofing may overhang the gutter just a bit making access a bit more challenging – this is where the use of a pressure washer comes in very handy!
When completing your seasonal gutter cleaning, be sure to assess the condition of your tile roof and schedule a cleaning about every three to five years to make sure it remains in fabulous shape.
Gutter Cleaning for Flat Roofs
When it comes to gutter cleaning for different types of roofs, flat roofs offer both pros and cons. The main pro is that it is easy to walk on top of the roof if needed, enabling faster gutter cleaning without having to shift the ladder every few feet. The biggest con, however, is that a flat roof can accumulate substantially more leaves and debris than pitched roofs.
Unless you live in a desert, expect your flat roofed home to demand seasonal gutter and roof cleaning. For homes in the northeast where trees abound, be sure to schedule professional roof cleaning and washing along with your gutter cleaning service. If not, you may need more frequent gutter cleaning.
Gutter Cleaning for Roofs with Gutter Guards
Gutter guards are terrific at preventing most debris from collecting in your gutters. While leaves, seed pods, and twigs generally are prevented from ending up in your gutters, smaller debris such as pollen, dirt and small pine needles might.
For homes with gutter guards, it's still important to have regular cleaning maintenance scheduled so that any pollen, grime, or sludge can be removed. When cleaning gutters with gutter guards, your professional will lift up the guards and remove any debris that has accumulated underneath. They will also wash out any remaining traces to ensure that molds and stains do not fester.
Contact Us for Gutter Cleaning
Ned Stevens Gutter Cleaning of Long Island has been serving homeowners in Nassau County and Suffolk County since 1965. Regardless of your roof type, our professionals are experts in gutter cleaning, roof washing, gutter repair, and gutter replacement.
Our gutter cleaning for different types of roofs includes seasonal, cost-saving contract options so that you never have to worry about scheduling your gutter cleaning again!