What Are the Best Gutters for Metal Roofs?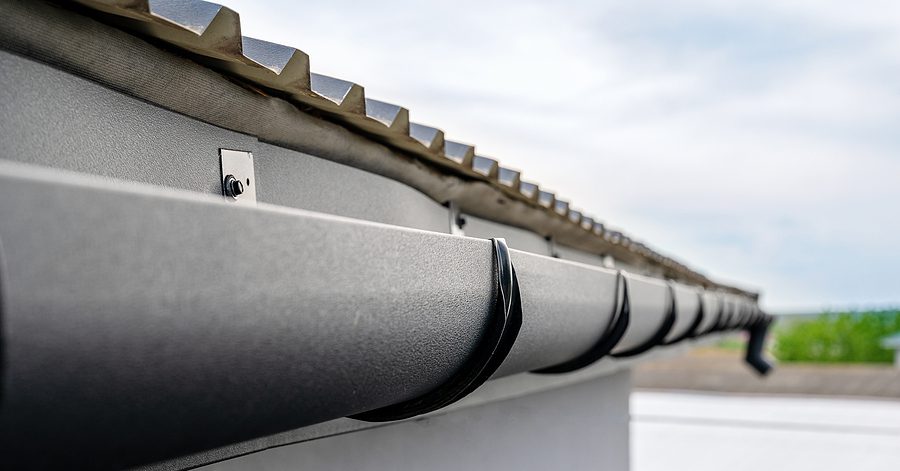 Metal roofs have become extremely popular, which means we regularly hear "What are the best gutters for metal roofs?" In any case, gutters play an important role in preventing water damage to the interior and exterior of your home. But all gutters are not created equal and they are not a one-size-fits all.
Choosing the right one depends on many factors including the roof type. Fortunately, you're not alone. The experts at Ned Stevens Gutter Cleaning can help you decide the best gutters for your metal roof. Let's take a closer look at the best gutters for metal roofs.
Why Do Homes Need Gutters Anyway?
Gutters and downspouts are functional necessities that help to channel rain water off the roof and away from the foundation of your home. They also add curb appeal and value to your property. However, the main reason why contractors install gutters is far from decorative.
Without gutters, rainwater will run off the roof and saturate the walls, sidings, fascia boards, door frames, window frames, and the land. Over time, this will lead to problems such as rotting, mold, basement leaks, attic leaks and moisture, soil erosion, and structural instability. So, gutters don't only protect the building, but they also preserve your yard and neighborhood.
Now that you have a good understanding of the value of gutters on your home, it's time to take a look at the best gutters for metal roofs.
What Are the Best Gutters for Metal Roofs?
You're more likely to see gutters on homes with roofs made of wood, asphalt, shingles, or composite than those manufactured from metal. The main reason is most metal roofs are durable and may be able to withstand the damage gutters are designed to help prevent. However, there's more to gain than lose by adding them to your roofline.
When it comes to the best type, experts say just about any gutter system that can be attached to the fascia board using hidden hangers is suitable for metal roofs. They also caution against installing systems that require straps to anchor the gutters to the roof deck.
The weight of the gutter on the strapping can cause damage to the eaves and sheathing of the roof. Another recommendation is to hang guttering for metal roofs as high as possible and set the proper pitch for drainage.
Still, how will you know which one to choose when there are different types, styles, and sizes of gutters available? Although the most popular and durable gutters are those made of aluminium, copper or zinc, gutters are also made using PVC, vinyl, galvanized steel, fiberglass and even wood! In terms of style, half-round and K-style gutters are made from all these materials and are considered most effective for metal roofing. Both are attached to the fascia boards instead of the roof deck.
To avoid mistakes, many homeowners rely on the gutter installation experts at Ned Stevens Gutter Cleaning of Long Island. We will guide you through the process of confidently selecting the best gutters for your metal roof. Some of the top options are discussed below.
Half-Round Gutters for Metal Roofs
Half-round gutters are the traditional style. They are shaped like a cylindrical tube cut in half and provide effective drainage. Special brackets are required to hold them in place since they do not rest flush against the fascia boards. Note that local government laws regarding historical homes may require half-round gutters if your home was built before 1960.
One downside of the half-round style is their open shallow troughs are prone to clogging from debris such as leaves, sand, twigs, and pine needles. Gutter guards or helmets can be installed to solve this problem. They do a great job keeping out debris without reducing the efficiency of water flow.
K-Style Gutters for Metal Roofs
Heavy-duty K-style gutters fabricated from aluminum or galvanized steel should do the trick. They look like the letter "K" when viewed from the side and are more aesthetically pleasing than half-round gutters.
Not only are they appealing to the eyes, they also handle a higher capacity of water and are particularly good for homes in rainy climates. More importantly, quality gutter installation contractors will use hidden hanger brackets to attach K-style gutters to the fascia boards instead of spikes or straps.
Contact Ned Stevens Gutter Cleaning of Long Island for the Best Gutters for Metal Roofs
Choosing the best gutters for metal roofs or any other roof can seem challenging. Considering the vast number of types and materials, most homeowners don't know where to start. However, the best place to start is by scheduling a free consultative appointment with the experts at Ned Stevens Gutter Cleaning of Long Island. Since 1965, Ned Stevens Gutter Cleaning has been delivering cutting-edge solutions to homeowners. Today, we have grown and offer a vast range of home improvement services, including:
We pride ourselves in helping keep you safe and your feet on the ground!
Contact Ned Stevens Gutter Cleaning of Long Island today for a free consultation.