Why Are My Gutters Leaking Between the House and Gutter?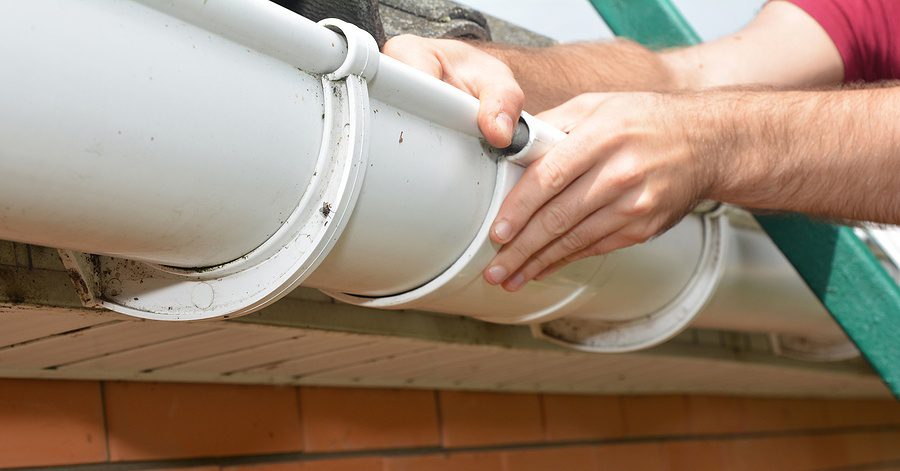 It's that time of year to expect more rain and precipitation. But if your gutters are leaking in the space behind the gutter, you may need professional assistance. For the most part, leaking rain gutters can be directly associated with neglect over time.
Failure to properly clean your rain gutters can lead to clogs, damages to the sheet metal at the gutter seams, leaking gutters, rotting fascia boards, and other problems. And this may only be the beginning.
Leaky gutters often lead to other more serious home and roofing problems, such as the need to replace an entire wall or worse.Let's take a closer look at a few causes of gutter leaks and steps you can take to ensure your gutters direct the water safely away from your home.
Why Are My Gutters Leaking Between the House and Gutter?
The most common reason that your gutters are leaking is that they haven't been cleaned properly or recently enough. On the other hand, if your system is damaged, it could be in need of gutter repairs. If you have been neglecting your gutters and not cleaning them out on a regular basis, leaves and other debris may be blocking proper drainage through the downspouts. This can, in turn, cause water to leak behind the gutters, into the soffits and into your home.
Installation Issues Can Lead to Gutters Leaking Between House and Gutter
Another reason that your gutter is leaking could be due to the manner it was installed. If there are any holes or cracks in the gutter seams, joints, or other components water can seep through the sheet metal or other material and get caught between the house and where they attach.
Installation issues can also cause sagging gutters —where your gutters are pulled away from your home as water pressure and the heavy weight of the gutter is applied. Sagging gutters can be caused by an array of potential culprits, such as missing screws, a damaged joint, missing hangers, and more. But when your gutters begin to sag, it can cause further damage to the fascia, flashing, insulation and other roofing components.
If you notice your gutters have begun to sag, drip water, or not function properly, it's important to understand it's not a DIY project. Instead, it's best to reach out to a licensed gutter repair expert to repair the issues and fix leaky gutters.
Age, Damage, and Disrepair Can Cause Gutters to Leak
In some cases, the reason that you see gutters leaking between the house and gutter is due to the age of the rainwater system itself. They can become old and clogged up which will lead to dripping and leakage between the house and where they attach.
Oftentimes, these problems can be caused by failing or fatigued metal, damaged seams, the need for new sealant, or gutter holes. There also may be damages caused by falling branches or debris that has been lodged into place for years causing tears in addition to holes.
No matter the cause of the damage, the team at Ned Stevens Gutter Cleaning of Long Island can fix it. We specialize in all matters of leaky gutters, damaged downspouts, sagging gutters, faulty gutter joints, damaged fascia, and everything in between.
In either case, we will inspect your gutters and provide you with a recommendation for either repair or replacement. Since we are familiar with all parts of the gutter systems, roof, flashing, hangers, shingles, and more, we can quickly determine the cause of the problem and guide you to the best course of action.
Clogged & Dripping Gutters...That's a Problem
You might think that leaky or clogged gutters are just a cosmetic problem that you can ignore. However, a leak in your gutters is a sign that you don't want to ignore. On one hand, it may be as simple as debris clogging the system, which can be easily remedied with a cleaning. Failure to pay attention to the sign can cause water to overflow the apron, which is the precursor for an expensive affair.
Faulty gutter downspouts and leaks can cause damage to your roof and the structure of your house, including the foundation. In fact, many homeowners who have neglected their gutters have been forced to replace entire sections of the home due to extensive water damage.
Your gutters serve an important function in your home by directing the flow of excess rainfall away from the foundation. If they are allowed to overflow, you can end up with standing water around your home which will oftenl lead to an increased presence of mosquitoes and other insects as well as a potentially dangerous location for children or pets if there is any flooding in this area.
This also increases the risk of water damage to your foundation and any wood structures that are found in this area as well. Water damage can lead to rot, mold growth, or other serious problems with the structural integrity of these parts of your home. You do not want to let these issues go untreated since it can lead to even more costly repairs or replacements in the future. Debris removal and cleaning or gutter repairs are easier and have an exponentially lower cost.
Contact Ned Stevens Gutter Cleaning of Long Island for Expert Gutter Repair
This all may seem very overwhelming to a homeowner who is not familiar with the process of maintaining their own gutters. Fortunately, you're not alone. At Ned Stevens Gutter Cleaning of Long Island, we offer an array of gutter cleaning, maintenance, and repair services.
We are the leading gutter improvement company in the long island area. We specialize in repairing all things associated with your gutters, such as seams, leaks, missing screws, faulty hangers, damaged joints, fascias, soffits and anything else your gutters may need to properly function.
Contact us today to learn more about the gutter maintenance and home improvement services we offer.