How to Choose the Right Gutter Cleaning Service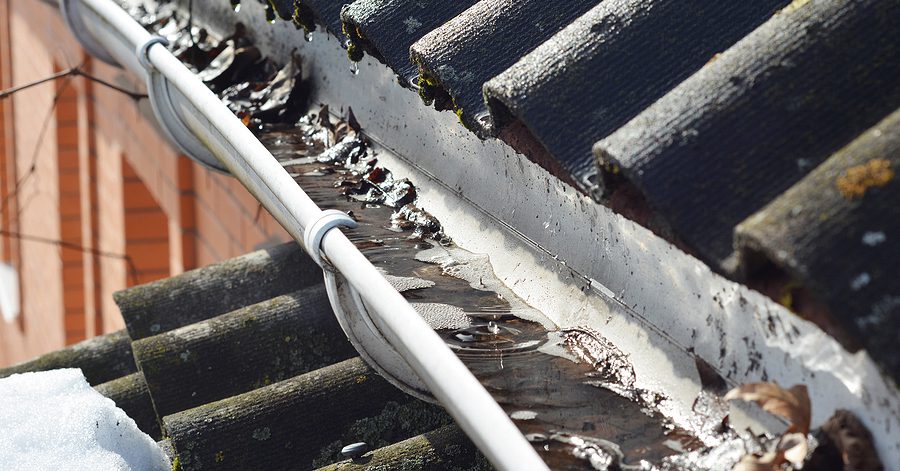 What does a gutter cleaning service do?
The purpose of gutter cleaning services is to remove leaves and other debris from your gutter system, including the downspouts. While leaf and debris removal from your roof is generally not included, a gutter cleaning service will remove any debris from your roof that is close to your gutters.
A proper gutter cleaning service will also dispose of the debris and not simply toss it onto the ground for you to clean up later. When your gutters are cleaned by a professional, the result should be clean gutters and no trace of debris around your home.
Why do you need a gutter cleaning service?
Leaf and debris buildup in your gutter system has the potential to cause a lot of damage to your gutters, your roof, and even your home. Since gutters are designed to remove water away from your roof and your home's foundation, anything that blocks the ability for water to drain freely can cause backups resulting in water pooling on your roof, near your foundation or even making its way through cracks into your home.
A routine gutter cleaning service will prevent these hazards.
The dangers of cleaning your own gutters
Depending on your home, cleaning the gutters can either be a fairly safe and straightforward task, or it can be complex, time consuming, and possibly dangerous. Danger areas for gutter cleaning include second stories, roof lines with multiple eaves, gutter connectors and downspouts, roofs with low overhanging tree limbs or other obstacles up against the house, and winter's favorite challenge - ice dams.
Ice damming is when excess water drips down your roof and towards your gutters but re-freezes before it enters the gutter to drain away. Ice damming is one of the most hazardous and dangerous scenarios for your home that can result in extensive roof damage so the condition must be taken care of as quickly as possible.
What to look for in a gutter cleaning service
When choosing a gutter cleaning service, there are several factors to keep in mind including the experience and reputation of the gutter cleaning service, their capabilities and safety precautions, whether or not they are insured, and their price.
Experience
When closing a gutter cleaning service, experience matters. Not all homes are the same and not all gutter cleaning jobs are simply routine. An experienced gutter cleaning service will know how to spot and assess possible damage to your gutter system or home, how to safely climb ladders to reach your gutters no matter how many stories your home has, how to navigate low hanging tree limbs or other safety hazards, and how to successfully remove clogs, mold, and gutter sludge.
Insurance
Hiring an insured gutter cleaning service is a must to protect both you and the service provider in the unlikely event of an accident or damage caused by the cleaning process. When speaking with a gutter cleaning service provider, be sure to confirm that they are insured and, if they must be a licensed contractor in your area, that they hold those credentials as well.
Having the correct license and insurance is a good sign that the gutter cleaning service you are dealing with is running a professional, reputable business and that their staff is well versed on safety and how to complete the job correctly and professionally.
Reputation
A great way to validate that a gutter cleaning service provider has happy customers is to look them up on common review and ratings websites such as Google and Yelp. Make sure that any business you are considering has a number of reviews and that they are, of course, mostly positive.
Also consider asking your neighbors who they use and if they are satisfied with the results and service. Friends and family is always a great way to find service contractors that are already proven to be great!
Safety
If you have a two-story house or many different roof lines, hiring a gutter cleaning service that prioritizes safety is important. Safety features include sturdy, stabilizing ladders, eye protection, gloves, and for those contractors that use buckets to remove leaves and debris, safety hanging hooks that enable the gutters to be cleaned with two hands rather than one hand scooping up debris and another holding a bucket. Gutter cleaning services that are insured should be well equipped to maintain the safety of their team, their equipment, and your home.
Additional services offered
A well-rounded gutter cleaning service is also able to do gutter repairs and gutter installations. The ability to complete these other tasks can be useful, especially if damage is discovered during cleaning that requires repairs or the replacement of a section. Companies that provide full gutter repair and cleaning service tend to be the most knowledgeable and experienced.
Another additional service that may be useful is roof washing. Not all gutter cleaning services provide roof washing which might be necessary if you have a lot of debris, algae or other dirt and grime on your roof. How will you know if you do? Just by looking up! If your roof has visible signs of mold, dirt, or debris you will want to have your roof cleaned thoroughly. Leaving leaves and other debris on your roof creates an environment for mold and algae to grow which will discolor and damage your roof. To keep the lifespan of your roof as long as possible, keep your roof looking great by hiring a roof washing service!
Price
It's always a good idea to get two to three quotes from gutter cleaning companies.This will inform what the correct price range should be. As in most things, choosing based solely on lowest price may not be the best path forward, so be sure to compare pricing along with all the other attributes important to selecting a gutter cleaning service. A quality service should be available for a fair price.
Hire Our Professional Gutter Cleaning Service
At Ned Stevens Gutter Cleaning of Long Island, we are your local gutter cleaning, repair and installation services provider along with roof washing services, window cleaning, and pressure washing services.
Our goal is to provide you with the best, safest, and most price-friendly service around so we also offer our cost-saving gutter cleaning contracts that ensure you will never miss a gutter cleaning!
Contact Ned Stevens Gutter Cleaning of Long Island today for a free estimate.