Here's What to Look for in the Best Gutter Protectors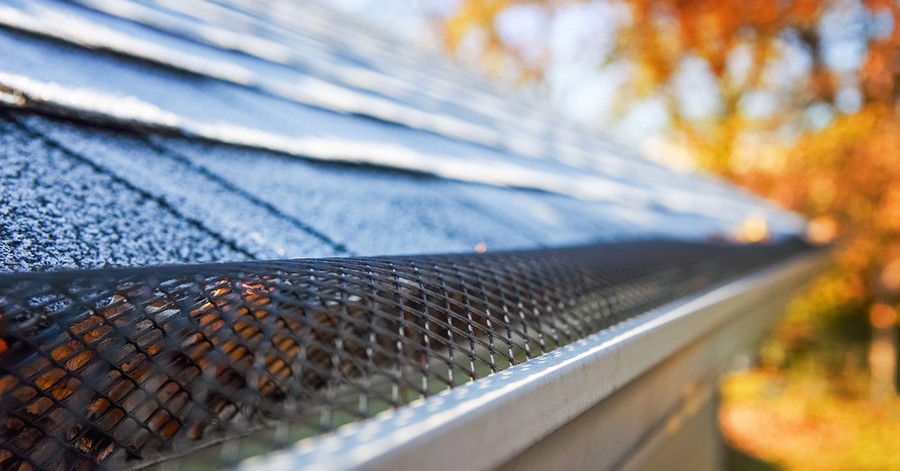 Do you know what to look for in the best gutter protectors? As a homeowner, there are numerous things you can do to help minimize the chance of damage to your home and thus protect its value.
Regularly inspecting and cleaning your gutters is one such task that can have far-reaching benefits. Clogged or improperly functioning gutters and downspouts have the potential to wreak havoc on your home in many ways, which is precisely why gutter cleaning is so important.
Installing gutter protectors on your gutters provides a barrier to help keep out leaves, branches and other debris that could otherwise build up and eventually clog your gutter or downspout. The only problem is that not all gutter protectors are equal, and only the best gutter protectors can give you the comfort that comes with knowing your gutters will remain clean and free from clogs. Continue reading for a quick list of what to look for in the best gutter protection.
Why Choose the Best Gutter Protectors?
There are a huge number of benefits to keeping your gutters clean. Dirty and clogged gutters could cause heavy rains to pool up against your home, and this has the potential to flood your basement or, worse, cause serious damage to your foundation. Eroding foundations, stained siding and interior water damage are just a few of the potential hazards of clogged gutters. Improperly functioning gutters also increase the chances of dangerous ice buildup that could result in leaks and other major roof problems, which is why it is so important to clean your gutters before winter.
For these reasons, it is essential to pay close attention to how well each type of gutter guard performs. In this sense, it can help to focus on the overall design and construction, durability and total cost to find the ideal gutter protection system that works for your home and your budget.
Design and Construction
When considering the design and construction, the most important factor is obviously how well the guards work at keeping your gutters clean. The problem is that some protectors still leave behind small gaps or openings that will allow at least some debris to sneak into your gutter, whereas some mesh-covers and other guards have too large of holes to properly catch all debris.
Since the point of installing the guards is to minimize the risk of your gutters clogging, it is obviously important to choose the type of gutter protection that does a sufficient job of keeping debris out. In addition, it is important to look at the overall quality of the materials used in the construction. Plastic, vinyl, aluminum, steel and other materials are all available, and your choice of material can affect the price, durability and overall protection the guards provide.
Consider the Total Cost of the Best Gutter Protectors
Your budget is obviously one of the most important factors when choosing gutter guards. Of course, as with most other things in life, you get what you pay for. This explains why the best gutter guards like Leafree tend to cost a bit more than some other products since they do a far superior job of keeping your gutters clean and free from debris.
These guards install directly over your existing gutters and serve as a complete shield to ensure all leaves and debris fall off the edge of the roof and not into your gutter. However, this level of protection is ideal for homeowners who have to schedule gutter cleanings four or five times a year or more.
Otherwise, you may be fine with choosing a less expensive option in cases where your home's gutters only need cleaning once or twice a year. Generally, this economy option simply slips under the shingles and over the lip of the gutter instead of being permanently affixed to the roof. While this type of gutter protector can definitely provide huge benefits in keeping out much of the debris, it's still important to know you may still need to have your gutters cleaned periodically.
The Gutter Protectors Durability
The final factor you'll want to consider is durability. It's important to consider both how long a product is rated to last and also whether or not it includes some type of warranty. This is one area where it always helps to choose the professionals at Ned Stevens Gutter Cleaning of Long Island.
First and foremost, we only install the best gutter protection, which is why we are proud to stand behind all of our products. Looking to learn more about the warranty on gutter protection systems at Ned Stevens Gutter Cleaning of Long Island? Give us a call at 631-582-0142 to learn more.
Contact Ned Stevens Gutter Cleaning of Long Island for the Best Gutter Protection
After considering all of these factors, it usually becomes obvious high-quality, professionally installed gutter protectors from Ned Stevens Gutter Cleaning of Long Island are the only way to go. The fact you still have options in terms of design and price ensures you can easily find a gutter protection system to suit your specific needs. Moreover, the importance of keeping your gutters from clogging means this is a job best left to the professionals—unless you really enjoy heights and the idea of constantly digging around in your gutters.
Contact Ned Stevens Gutter Cleaning of Long Island today for the best, most knowledgeable and experienced professionals available in the gutter protection industry.