6 Squeaky Clean Important Benefits of Window Cleaning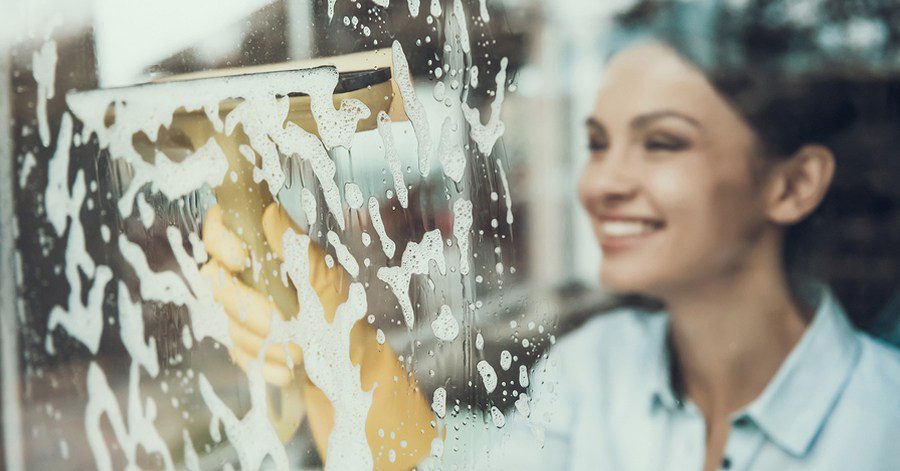 While it can be a tedious task, the benefits of cleaning your windows greatly outweigh the cost. Due to the shape of the windows and their height above ground, window cleaning is hardly a do-it-yourself weekend task most business owners or homeowners can confidently tackle. Instead of putting your safety at risk, the experts at Ned Stevens Gutter Cleaning of Long Island offer a professional window cleaning service to keep your feet on the ground.
We offer both commercial window cleaning as well as residential window cleaning for customers throughout the Long Island, Nassau County, and the Suffolk County area. We have the right products and state-of-the-art equipment such as power-washers and Water-Fed Poles to get the job done right. Our experienced professional window cleaners will arrive at your business or residence, assess the requirements, and restore your property to its original glory.
Surprisingly, the benefits of cleaning your windows far exceed an enhanced aesthetic appeal. Let's take a closer look at six of the most glowing benefits of the professional window cleaning service offered by Ned Stevens Gutter Cleaning of Long Island.
Make the Right First Impression with Professional Window Cleaning
Clean windows with high visibility can improve the image and aesthetics of your house or office while adding a noticeable amount of curb appeal. Most importantly, clean windows can also impact your reputation as a business. Since you never get a second chance to make a first impression, make sure you're communicating the right message by embracing the benefits of cleaning windows.
Besides, your windows could be the reason a prospect walks into your business or the reason a repeat customer chooses a competitor. Clean windows also improve the look and feel of the office environment and can inspire employees to work better.
Welcoming Sunlight in with the Benefits of Cleaning Windows
Imagine the morning sunshine piercing through clean and clear windows. Without a doubt, it's a refreshing way to wake up at home and/or keep your employees energized throughout the day. The morning sunshine allows you to get your vitamin D without going outdoors if you're not up to it.
Allowing the rays of natural sunlight into your home or office can set the mood right and make you feel alive and happy to start and get through your day. So don't cheat yourself or your employees from enjoying this natural dopamine by having filthy windows.
Bolster the Life of Your Windows with Professional Cleaning
Increase the lifespan of the windows by having them cleaned regularly. Cleaning prevents etching which could scratch and weaken the glass and make it fragile or easy to shatter. The risk of etching increases based on where your home or office is located. Elements such as salt, sand, hard water, sap, dust, and bark are known to cause etching, especially if your building is located in a wooded or industrial area or by the ocean. Conversely, windows located near busy roads and highways suffer some of the worst environmentally caused glass damage.
Clean Windows Can Protect Health
Heavy dust, mildew, or mold trapped on windows and window frames will eventually get into the surrounding air and can be environmental or health hazards. In addition, dust has the ability to trap allergens and bacteria. Dirty windows can trigger allergies such as itchy eyes or runny nose. Breathing in dust-filled air can cause coughs and respiratory infections in family members or employees. Regular window cleaning keeps the air clean and reduces these health risks. We can't tell you how many times we open a window only to find the sills, tracks and sashes filled with mold.
Bolster Productivity with Clean Windows
A clean work environment void of occupational hazards helps keep employees safe, healthy, and happy. Allergies and respiratory problems such as asthma are common health problems that employees may trouble with.
Removing the dirt and dust with proper cleaning reduces the number of employee sick days. In fact, economists from the National University of Singapore recently completed a study that revealed exposure to air pollution can significantly reduce employee productivity, which can have negative implications on your bottom line.
So, whether you want to keep your kids in school or your employees at their desks, clean windows CAN make a difference!
Enjoy the View from Clean Windows
Whether it's a sprawling landscape of grass and flowers, a placid lake, or stunning high rise buildings outside your windows, clean windows will allow you to take in and enjoy the view—every time! You may be tempted to mask streaky, dusty windows with blinds or curtains. Perhaps these window treatments may make the inside your home or office look good.
But think about the damage that results from uncleaned windows and frames. Fixing or replacing them will cost you more money than it would to have your windows cleaned professionally by the team at Ned Stevens Gutter Cleaning of Long Island.
Enjoy the Benefits of Window Cleaning - Contact Ned Stevens Gutter Cleaning of Long Island Today!
Professional cleaning ensures your windows are washed and cleaned with the right products to give them that streak-free, scratch-free, and transparent clarity. Ned Stevens Gutter Cleaning of Long Island provides professional window cleaning services for residential and commercial customers on Long Island, including both Nassau County and Suffolk County.
If you're ready to experience the growing list of benefits of window cleaning, contact Ned Stevens Gutter Cleaning of Long Island today for a free quote.